Permanent link
12/07/2015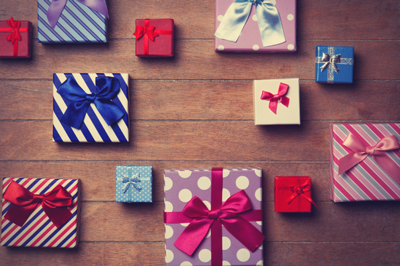 Dear Reader,
If you should ever have to give me a gift for any reason -- be it this week's holiday of Chanukah, my birthday, perhaps an anniversary, or maybe even a very futuristic Mothers Day -- I hereby henceforth declare my written permission for you to purchase for me a gift card.
Here's the part where you gasp. "A gift card?! What an impersonal gift!"
But I'll repeat: You have been granted my official permission (is anyone out there a notary?) to get me a gift card and call it a day. And yes, believe it or not, this can even apply to husbands and mothers.
When it comes to gifts, I can see how I may be difficult to shop for. I'm usually at least a season behind the rest of the fashion world, I'm pretty particular about jewelry (I like silver but I'm not a huge fan of gold), and I like dollars but I don't like any scents (get it?). For whatever reason you're buying me a gift, I am so grateful, and the last thing I would want to do would be to stress you out.
A gift card to one of my favorite stores (Or really any store! I can find something anywhere!) is a nice way to put your gift to good use. As my personal shopping budget comes up a bit shy of the million-dollar mark, these gift cards come in handy to update my closet with more recent fashion or the latest gadget.
I do understand, though, the need for wanting to make a gift more "personal." A gift card may be construed as cold or lacking in creativity. But if you're feeling a case of "gift card giving blah," here are a few ways to make a gift card gift shine a bit more like you.
Be creative in your choice of gift card store. Maybe you've heard that I like scarves (it's true!) and you have a favorite scarf store. I'd love to try a new store, and a gift card is a wonderful incentive.
Pair the gift card with a related gift. My mom used to get people gift cards to Blockbuster (RIP) along with a couple packs of popcorn, and I thought it was the cutest thing. What about a gift card to Old Navy on top of a fun pair of mittens? Or a gift card to a sports store with a nice water bottle?
Wrap the gift card in a big box. It's fun to unwrap a piano-sized box shrouded in paper reminiscent of the Fourth of July. It's even more fun to find a little box inside of a big box. Make me work for the gift card. Heck, send me on a scavenger hunt around the neighborhood to make me find the gift card.
Write me a poem. You can include a thoughtful, creative card with your gift! Make a collage of pictures and memories of us. Scrape up your sonnet-writing skills or write about how I'm L ively, I nteresting, and A ctive. Your creativity in the card is worth more than the gift.
So, use this guide to the gift card when thinking about what to get me or other people. Happy Chanukah, happy birthday, happy anniversary, happy Martin Luther King, Jr. Day, and happy Monday!