Permanent link
Make videos about what Jews do on Christmas! 
12/06/2011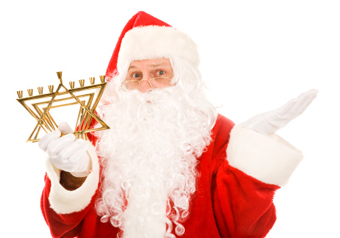 So my first idea for a blog post was a list of Christmas songs and carols written by Jews. But it turns out that subject has been very, very well-documented. (I did compile a list from these sources, and tacked it on to the bottom of this post, if you are curious.)
Instead, I tried to find out what Jews today do on Christmas. Turns out, this matter is the subject of not a few online videos. Here are my favorites, one for every candle of Chanukah. (Now, some of the language in these is NSFW. But why are you watching videos at the office anyway?! Get back to work- it's a short month!)
1. "South Park": "A Lonely Jew on Christmas"
Kyle Broflovski, the only Jewish member of the South Park foursome, sings this lament on Jewish alienation on this pervasive, even smothering, holiday. And we feel the poor little guy's pain. But what could he do about it? His fellow Jewish YouTubers have this to say:
2. Chuck Brodsky: "On Christmas, I Got Nothing"
First, Kyle must realize that he is not alone. For instance, Chuck here, even as an adult, still recalls the childhood sting of being left out in the gift department. A great folksinger, he once worked on a kibbutz. His work is usually pretty pointed, with songs about everything from pollution to road rage. He also writes many songs about unusual baseball figures- some of whom, like Max Patkin and Moe Berg, were Jewish.
3. Sarah Silverman: "Give the Jew Girl Toys"
Meanwhile, Sarah wants toys on Christmas, too. But rather than pout about not having any, she takes a more proactive approach. (When Sarah wants toys, Santa, you'd better just hand them over… if you know what's good for ya.)
4. Brandon Walker: "Chinese Food on Christmas"
Of course, rather than focus on getting another Transformer or Furby, one could make one's own celebration with the resources at hand, with one's similarly sidelined palls. Are there any Chinese restaurants in South Park?
5. The Chixie Dix: "All I Want for Christmas is to Be Jewish"
And if Kyle can't find any Jews to go with, would a potential Jew do? Some Christians, like these alt-country singers, also feel put out by all the fuss made on Christmas, and actually wish for a more simple, pure, untainted holiday. Some might even be looking for a guy like Kyle to chill with.
6. Melissa McQueen: "All I Want for Christmas is Jews"
So might this Mariah Carey wannabe, although she is too old for Kyle. The guy in the last song wanted to become Jewish, but she just wants to hang out with Jewish celebrities and be Jewish-by-association. So that's another kind of person Kyle might find to accompany him for some dim sum.
7. Kugelplex: "Yiddish Rudolph"
That failing, Kyle might avoid being lonely by actually attending a Christmas party and watching some classic videos with his classmates. But that still doesn't mean he has to "do" Christmas their way. For instance, he can reclaim a famous Christmas song written by his fellow Jews… by singing it in a Jewish way. That should make a keen Christmas memory for his hosts!
8. Jewmongous: "Reuben, The Hook-Nosed Reindeer"
Or he could make up his own words… and follow the footsteps of Jews who specialized in novelty songs, such as Mickey Katz, Allan Sherman, Tom Lehrer, Shel Silverstein, and Andy Samberg. Or this guy, Sean Altman. Altman's old a cappella group, Rockapella, is best known for their "Carmen Sandiego" theme song, but his solo material is far less child-friendly. (And this little ditty isn't even the worst of them.)
9. MC Jew C and Lil Mitzvah: "Merry Hanukkah"
Of course, another reaction to Christmas and the dismissive effect it has on many Jews is good ol' anger. Why seek out other Jews, or wanna-be Jews, or wanna-be-with-Jews? Why not just rail against the system, and like these rappers fight back with a personal war on the all-encompassing Christmas "spirit."
So that's what Jews do for Christmas- deal with the loneliness, alienation, and lack of presents though friendship, sarcasm … and plate after plate of moo goo gai pan. Oh, and by making videos about what Jews do on Christmas. 
For those who did want a handy-dandy guide to which Christmas songs were written by Jews:
- "White Christmas" by Irving Berlin, who also wrote the winter classic "I've Got My Love to Keep Me Warm."
- "The Christmas Song (Chestnuts Roasting…)" by Mel Torme and Bob Wells.
- "Rudolph the Red Nosed Reindeer" by Johnny Marks, who also wrote "Rockin' Around the Christmas Tree" and "A Holly Jolly Christmas."
- "Let It Snow, Let It Snow, Let It Snow" by Sammy Cahn and Jule Styne, who also wrote "The Christmas Waltz."
- "We Need a Little Christmas" by Jerry Herman.
- "Santa Baby," music and lyrics by Joan Ellen Javits and Philip Springer.
- "It's The Most Wonderful Time Of The Year" by George Wyle and Edward Pola.
- "Silver Bells" by Jay Livingston (Jewish) and Ray Evans (not).
- "Winter Wonderland" by Richard B. Smith (not sure) and Felix Bernard (yes).
- "Sleigh Ride" Leroy Anderson (no) and Mitchell Parish (yes).
- "I'll Be Home For Christmas" Walter Kent (yes), Buck Ram (yes) and Kim Gannon (no).
- "There's No Place Like Home For The Holidays" Bob Allen (not sure) and Al Stillman (yes).
- "You're a Mean One, Mr. Grinch" Albert Hague (yes) and Theodore "Dr. Seuss" Geisel (no).
(Some of this list was researched by Nate Bloom.)