Permanent link
Team struggling to find identity in the switch from Thibs to Hoiberg
12/23/2015
It doesn't often happen that a team will fire a head coach with a .647 winning percentage and NBA Coach of the Year honors, but after five seasons and five straight playoff appearances cut short, the Bulls parted ways with Tom Thibodeau this off season and replaced him with first-year head coach Fred Hoiberg.
Despite grinding their way to the top of the Eastern Conference year after year under Thibs, many felt he pushed the players too hard, playing through injuries and logging 40-plus minutes in sometimes meaningless regular season games. His high standards and relentless style had worn on everyone, even the players who bought in completely.
Hoiberg was supposed to be the "anti-Thibs," and so far this season, the players agree. This was intended to be a good thing, but so far the results have not been there. Hoiberg was brought in to move toward an offense-focused game plan in a changing league modeled after high-volume scoring teams like the Golden State Warriors, but the Bulls rank near the bottom of the league in offensive efficiency (only the Nets, Lakers and 76ers are worse) as well as effective field goal percentage (tied with the 76ers, only the Grizzlies and Lakers are worse).
The relationship between Hoiberg and the players has also been edgy since the beginning, starting with moving Joakim Noah out of the starting line up in favor of Nikola Mirotic. Noah reportedly was very comfortable with this change and even approached Hoiberg about it because he was more comfortable playing with Taj Gibson anyway. This did not come as much of a surprise seeing as Noah has been a team-first pro since coming into the NBA, but it was later revealed that the move was not Noah's idea and he was just going along and looking on the bright side.
The most recent spat came last weekend in the form of a much more aggressive calling-out by team leader Jimmy Butler. Butler said that Hoiberg was not pushing the team hard enough or holding his players accountable. Although he later said he was not throwing his coach under the bus and that it was on everyone to push harder -- nobody was fooled.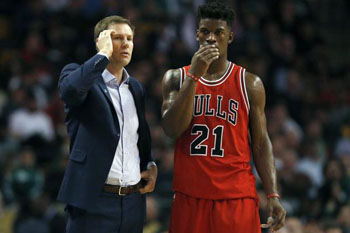 This was a roster built for Thibodeau's style of play, with his work ethic embedded in the players' DNA. If Hoiberg's style was creating positive results maybe things would be different, but they are not.
Mirotic and Doug McDermott, who were placed in the starting lineup to lead the offensive attack, have struggled and have since been replaced by Gibson and Tony Snell -- stronger defensive players. The change in style along with a setback to Mike Dunleavy and Derrick Rose's double vision have led to a rare occurrence -- a team that returned 90 percent of its roster from last season is struggling to find chemistry.
Changes need to be made if the Bulls want to salvage this season. Noah is on contract a year. Pau Gasol is too and Rose's enormous contract has one more year after this one. Butler appears to be the only untouchable player on the roster, though if this rift continues, it may come down to him or Hoiberg.
The Bulls will never tank, it just isn't like them, but they don't appear to be going anywhere this season. It'll be interesting to see how active they are at the trade deadline considering they're already threatening the luxury tax threshold.
Hoiberg may turn out to be the right coach, but he is not the right coach for these players. If Hoiberg and Butler, who were both just signed to five-year contracts, aren't able to find common ground, this could end up being a bigger mess than anything that happened under Thibs, because even when things were at their most chaotic, the Bulls were still winning.
The biggest difference I have seen so far is that this Bulls team just doesn't seem to enjoy playing together. Even when the Bulls have been undermanned in the past, they were always fun to watch. But this Bulls team lacks identity and cohesiveness on both ends of the court.
Now is the time to sell high on some of their players like Noah, Gibson and even Rose. Lightening up their overloaded frontcourt will give more opportunities to rookie Bobby Portis and give them a chance to see if they actually do have players to build around in Mirotic and McDermott.
As of today, the Bulls sit in the No. 7 seed of a much-improved Eastern Conference. They have lost three straight games and 6 of their last 10, and finish out 2015 with a very difficult schedule including Oklahoma City, Dallas, Toronto and Indiana.
The Bulls' front office needs Hoiberg to turn things around. He is the sixth head coach in the last 10 years, not a great record for a general manager to have. If improvements aren't made across the board, we could see changes made at the top, and another potential period of misery like the one we saw in the early 2000s.
The Bulls are on the verge of a new era, and the next few months will determine what kind of era that is going to be.