Permanent link
12/02/2013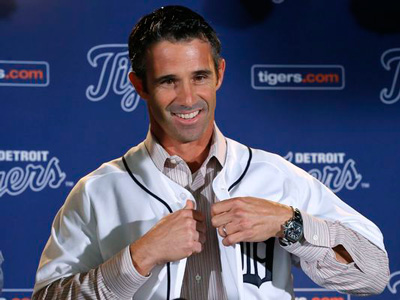 Mazel Tov to Brad Ausmus!
Former Jewish Major League Baseball player Brad Ausmus was tagged to replace Jim Leyland as the new manager of the Detroit Tigers. Ausmus inherits a mega lineup featuring Miguel Cabrera, Torii Hunter and ace pitchers in Justin Verlander and 2013 American League Cy Young winner Max Scherzer. The Tigers even recently acquired Jewish second baseman Ian Kinsler (talk about beshert!) Now if only Lawrence Frank could get back into a head coaching spot we'd have a Jewish coach/manager in all three major sports (Chicago Bears coach Marc Trestman is Jewish).
Mazel Tov to Craig Breslow, Ryan Lavarnway, Ryan Kalish!
Mazel tov to the Boston Red Sox for winning the World Series! Only Breslow was on the World Series roster, but I believe Lavarnway will receive a ring for his playing time during the season. Kalish did not appear this season for the BoSox due to injury. Breslow was the 24th Jewish ballplayer to play in the World Series.
Mazel Tov to Craig Breslow and Ian Kinsler!
Breslow was also this year's recipient of the Sandy Koufax Award given to MLB's best Jewish pitcher by TheGreatRabbino.com. Breslow was 5-2 with a 1.94 ERA. He struck out 32 batters in 52 innings. This is Breslow's third time winning the award (second in a row). Honorable mentions: Scott Feldman and Jason Marquis. Ian Kinsler won the Hank Greenberg Award for best Jewish MLB hitter; Kinsler hit .277 with 13 HRs and 31 doubles. He also compiled 15 stolen bases for a Rangers team in the thick of the playoff hunt throughout the season. Ryan Braun has won the award the last three seasons and Kevin Youkilis was the inaugural winner. Honorable mentions: Josh Satin, Nate Freiman, and Ryan Braun.
Other Mazel Tovs
On Nov. 1 the NBA saw its first matchup between two Israeli born players. Omri Casspi of the Houston Rockets took on cross state rival the Dallas Mavericks and rookie Gal Mekel. This was an amazing moment for Jewish basketball and the country of Israel.
Meanwhile, in the NFL, brothers Geoff Schwartz (Kansas City Chiefs) and Mitchell Schwartz (Cleveland Browns) met for the first time on Oct. 27. Geoff and the Chiefs were victorious.