Permanent link
12/19/2013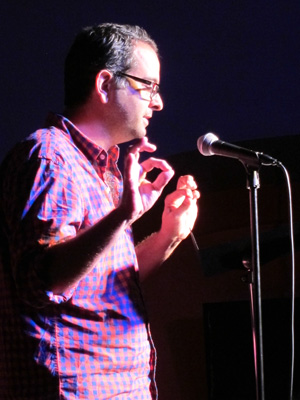 Lifeline Theatre's Fillet of Solo Festival begins in just a couple weeks and if you are interested in Chicago's burgeoning Live Lit scene you should be there. The festival will bring 10 solo performers and 13 storytelling collectives together for a three-week, multi-venue selection of powerful personal stories.
What is Live Lit? Live Literature, or Live Lit as it is known, is a collage of several different types of performance including bits of slam poetry, stand-up comedy, performance art, improv and literary reading. That makes Live Lit sound like a word problem and far more high-brow than it actually is. Basically? It's good old fashioned storytelling in front of a live audience.
How did Live Lit get to Chicago? It's like the saying goes, "two Jews, three opinions." Some argue that the form can be traced back to The Moth in New York City and its successful storytelling nights or even This American Life. Others might say that the form reminds them of improv comedy in the way that it creates no frills theatre right in front of you.
No matter how you trace the origin of Chicago's Live Lit scene, it is here to stay. On any night of the week you can find at least one show (and probably more) to see. Each show has its own personality and rules. Some shows are full of featured performers, have auditions or calls for submissions; while others offer open-mic slots or a hybrid of all of the above. There are Live Lit shows that only want non-fiction tales, while others showcase fiction or maybe even a combination of both. A few shows are themed. Some aren't. You really have to do your research and decide what you want to see or how you want to participate.
That of course begs the question, "How can I participate?" Again, I'd say do your research. Go see a Live Lit show. Many of these shows are free or inexpensive. Stay after and talk to show runners. I produce a show called You're Being Ridiculous, which will be in the Festival. I can tell you that I am always looking for new writer/performers/helpers and I'm certain that other shows are too. Another great way to stay in touch or to do a little research on the DL is Facebook. Search for shows. Follow them. You'll find out the who, what, where, when and whys. There are tons of shows in the city, which means there are more ways to participate than can be listed.
The best way to get to know the form is by coming to the Fillet of Solo Festival next month. It's a unique opportunity. You will have the chance to see a number of Chicago's well-known Live Lit groups all within a couple of blocks and in a short amount of time. Live story telling events are the current hot ticket in Chicago, and we are quickly becoming the capital for the form. The 2014 solo performance and storytelling festival features the work of 2nd Story, The BYOB Story Hour, enSOLO, the kates, The Lifeline Storytelling Project, Stir-Friday Night!, Story Club, Story Lab, Story Sessions, Sweat Girls, Tellin' Tales Theatre, Write Club and You're Being Ridiculous.
Performances run Friday through Sunday at various times from January 3-19. Tickets can be purchased through Lifeline Theatre's website and are only $10 for each performance. Festival Passes are also available for $30, which will allow you admission to any number of performances over the three-week run. Put this festival on your calendar. You don't want to miss it!