Permanent link
12/19/2011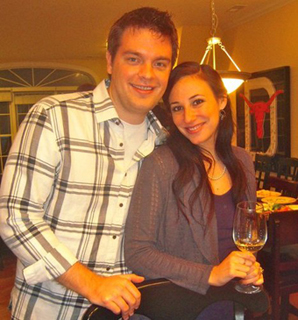 During my fifth holiday party this past weekend, it struck me that for all the drinking and eating and celebrating that goes on during this season, the holidays are actually a great time of year for dating (and for this wannabe matchmaker to set folks up)!
Back when I was still single, I used to dread the holiday season because it meant going home and facing well-meaning, but annoying comments and questions from loved ones wondering why I didn't have a boyfriend. Don't let these folks get you down. With all of the festivities taking place during December, this is actually one of the best times of the year to meet new people and go on dates…so that by Passover you have a different answer for Great Aunt Ruthie.
The biggest holiday party of the season took place a few Saturdays ago and while it's already been covered here , here and here, I know of three potential first dates that I set up that night and I'm sure with 2,600 people in attendance those weren't the only ones!
Now don't feel too bad if you missed out on that great potential dating opportunity because the Matzo Bash is right around the corner. Here is the link to buy your tickets— get them soon as prices are going up.
And if giant holiday parties aren't really your style, there's plenty of smaller house and bar parties to attend. This past Friday I went a friend's festivus and brought a few single girlfriends with me (as did many others in attendance.) By the end of the night, a few folks had exchanged numbers and I know for sure two of them are going out on their first date tonight! While you might not think there will be anyone new to meet at a smaller party, you really never know. So don't get the holiday blues or turn into scrooge and skip out on any of these great events!
To keep you focused and in the holiday spirit, here are some of my tips for landing dates during the party season:
- Say, "yes" to every party invite you receive, whether it's from your boss, your neighbor downstairs or your best friend. You never know who you are going to meet at one of these bashes. If you have two parties in the same evening, try to hit both, so you can expand your odds of meeting someone new to snuggle with during the cold months ahead.
- Plan a few holiday party outfits in advance. The holiday season can be long and tiring with lots of parties on week nights after work. To cut down on the temptation to just lie on the couch at home watching TV, have some rotating outfits on hand. This way you'll be less likely to want to stay in and use the excuse, "I have nothing to wear." Plus, planning ahead will help ensure you don't wear the same outfit twice in front of the same group of friends. God forbid.
- Don't be afraid of theme outfits/parties. The ugly sweater party is never going out of style, so go ahead and just embrace it all: ugly sweaters, reindeer headbands and menorah glasses. These all make great conversation starters and make going up the cute guy or gal in the bar a little easier.
Now let's get dating. This is actually my favorite time. There is so much to do in Chicago that is fun, unconventional and fosters way more conversation than say, just going to a movie. Here are some great first dates for the holidays:
- Saving your cash for holiday presents? Why not grab a hot cocoa and take a stroll through the ZooLights display at the Lincoln Park Zoo.
- Don't think because it's cold out you can't still be active! This year, Chicago has FOUR ice skating rinks available to the public. Millenium Park, Navy Pier, Daley Bicentennial Plaza and Wrigley Field all offer rinks, for more information check out this list of skating rinks.
- Being outside not your style? Go see a holiday-themed play! Who says Jews can't celebrate Christmas? Check out a showing of the new play, A Christmas Story, The Musical! The lyrics are written by MOT Benj Pasek. For ticket information, visit The Chicago Theatre box office or call 1 (800) 745-3000.
- Do a little holiday shopping on your date at the Christkindlmarket at Daley Plaza.
- Tour the Sauganash neighborhood holiday lights. Grab another cup of cocoa and a car and take a drive. You can make it a game to spot the tackiest, prettiest, most unconventionally decorated house.
- Make a ginger bread house or bake some cookies. Stay-in on a particularly cold evening and bake some holiday themed treats with your new sweetie.
Hope some of these ideas help gets you through the holiday season and adds a little perspective to this time of year. Feel free to share your own advice and ideas below!
Happy Chanukah, everyone!