Permanent link
11/30/2015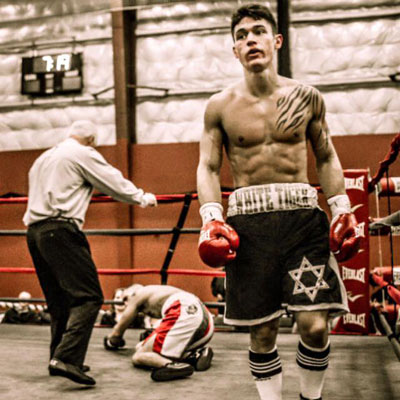 Dustin Fleischer, a.k.a. "The White Tiger" is a welterweight professional boxer and the grandson of a Holocaust survivor. Since his professional debut at Madison Square Garden back in January, Fleischer has gone undefeated in five matches.
1. Tell us a little bit about yourself.
I would consider myself a regular guy. Boxing is my passion and my job. I am blessed to have the opportunity to have a job that is my biggest passion. Outside the ring, I am a big animal-lover. I live in a beach town so I hang out at the beach all summer. Other than that, I enjoy hanging out with friends.
2. What got you into boxing?
I started doing martial arts when I was five years old as a response to being bullied in school. The art of fighting came naturally to me. The requirements to be successful, such as discipline, focus and confidence, were what grabbed hold of my attention at that young age. My father was a boxer and took me to the gym with him. I remember watching him spar that day, and I wanted to get in the ring immediately after. I stayed with martial arts until I was about nine years old. Then, I got into boxing. However, I stay under the guidance of my sensei John Gaddy today.
3. What are your boxing goals?
I want to be the first world champion related to a Holocaust survivor. I want to be a fighter that people talk about long after I retire from the sport. When I was a kid, my father and I would watch fighters like Ricky Hatton, Yuri Foreman and Oscar De La Hoya. We would learn from each different style that they had. I would like to be a fighter that possesses both greatness and a unique style, which each of those fighters had. I would like to see a father -- who's also a trainer -- sit with his son -- who's also a fighter. Lastly, I want to learn from myself.
4. What does being the grandson of a Holocaust survivor mean to you?
It gives me a sense of confidence and strength that I can't imagine any other fighter has. It is an edge that I possess over competition that I feel does not. The odds my grandfather overcame to survive concentration camps and become part of the Jewish resistance group makes me determined to achieve my dream of becoming a World Champion.
5. What was your Madison Square Garden experience like?
It was unreal. It was my first professional bout, and I was on one of the biggest stages in the world. I never approach a fight scared, but I always have some nervousness. However, the nerves make me better because they give me extra energy, agility and sharpness, physically and mentally. It is hard to put into words the feeling you get after the sacrifice of countless hours of training, dieting, soreness and sparring, along with a second round KO on the stage of MSG, pays off. There is no better feeling I have experienced in my lifetime when I heard stars like Rihanna, Jake Gyllenhaal and CC Sabathia cheer my name.
6. What was the coolest thing about MSG?
I felt like I was a star that night. Before I walked out to the ring, MSG was playing a video of me training and getting interviewed. I found out it aired across the country on Fox Sports. I felt blessed because most fighters do not get that exposure for their professional debut.
7. What's next for the White Tiger?
In the beginning stages of my boxing career, we did not make a lot of money, compared to a professional baseball player or football player. It is important for me to stay busy and fight about every 45 days, give or take. I would like to fight again soon. I stay busy by updating my social media sites, which include "The White Tiger Dustin Fleischer" fan page on Facebook, my Instagram account, and my Twitter account @dustinfleischer. I keep them updated in hopes of attracting sponsorship to help pay the expenses associated with training and completing my quest to become a part of Jewish history.
8. Best pizza in New York?
I am not that familiar with pizza in New York because I usually am dieting. However, if a pizza place was willing to arrange some kind of sponsorship on my behalf, then they are without a doubt the best pizza place in the world! Honestly, my favorite cheat meal is matzo ball soup. I get this from a diner around the corner from my house on the Jersey Shore. Also, I love the secret carrot cake recipe my mother makes for me after each bout.