Permanent link
11/08/2012
Halloween is a killer, not in the gory-scary-chainsaw massacre way but in the belly. It starts the holiday season with miniature morsels of goodness. Even if you are not knocking on doors begging for candy, you have some. And it's in your office too, there's no escaping Halloween candy. Up next: Thanksgiving and a disgusting quantity of delicious stuffing, turkey, pies and potatoes. 
Since most people gain a few pounds throughout the winter and don't lose it, now is the time to be diligent. With work events, friends, and family gatherings it's hard to stay on a workout regime and eat healthy. You have to outsmart fat. Here are some simple strategies to stay slim this holiday season:
• Pre-eat, I know this sounds like blasphemy but have a healthy snack before you hit the holiday buffet style meal. 
• Appetizers OR Dessert, plan your meals. If you are going to have some pigs in a blanket that are held together by corn syrup solids (gross but usually true), skip the cake or vice versa.
• Ask to bring a dish and make it HEALTHY. HEALTHY can still taste YUMMY.
• Have some soup! Make sure it's a puree or clear broth. Those cream based soups will kill you (not literally).
• If you are the cook, surf Cooking Light or Spark People and find healthy recipes.
• Plan your day, if you know you are going to have a dessert at dinner, have fruit when you crave sugar earlier in the day.
• Walk after your meal. Aside from burning calories, walking helps with digestion.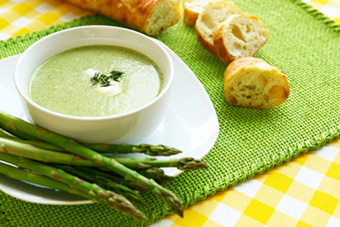 I love soup! I know some people are not into to soup, but if you are, here's an easy delicious soup that's low in calories:
Asparagus Soup
2 stacks of asparagus
2 cups of low sodium chicken broth
Small onion
2 stalks of celery
2 Teaspoons of garlic
1 Teaspoon of pepper
Teaspoon olive oil
In a deep sauce pan, heat oil on medium, add onion and celery. When the onion starts to brown place chopped asparagus, garlic, chicken broth and cook until asparagus gets soft. It takes about 10 minutes or so. Blend in a food possessor or blender. Add in pepper, serve! Sometimes I add a dollop of Greek yogurt to make it a little thicker and add more protein. 
Do you have a favorite healthy soup? Send it my way!