Permanent link
11/06/2009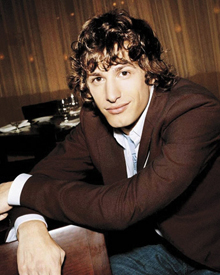 He's cute, he's funny, he brought us gems like "Dick in a Box" and "I'm on a boat" and… he's Jewish!
Known for creating and starring in such comic and raunchy music videos as "Motherlover," "Dick in a Box" and "Lazy Sunday," Andy Samberg's videos appear as SNL digital shorts and then rocket their way to YouTube fame.
In addition to seeing Samberg on SNL and on YouTube, you can see him live at the JUF's Young Leadership Division's (YLD) second annual Big Event on Sunday, Nov. 15.
The comedian's videos have garnered several Emmy nominations and awards and broken records on YouTube. For instance, "Lazy  Sunday," collaborated with SNL alum Chris Parnell, marked Samberg's breakthrough performance on the sketch comedy show. Then, the video became an Internet phenomenon with more than five million hits on YouTube within a few days of the video airing on television.
A Berkeley native, Samberg recently starred opposite actors Paul Rudd and Jason Segal in the movie "I Love You, Man" about a groom's search for bromance and a best man for his wedding. And, this fall, Samberg's voice was showcased in the animated feature film "Cloudy with a Chance of Meatballs."
Samberg, alongside his comedy troupe Lonely Island partners Akiva Schaffer and Jorma Taccone, released their album "Incredibad" earlier this year, the first full-length album to reach the number one spot on iTunes. The comedian also recently hosted the 2009 MTV Movie Awards and started his fifth season on SNL this fall.
The second annual Big Event, held on Sunday, Nov. 15, at 6:00 pm at the Swissotel Chicago, will launch YLD's 2010 Annual Campaign. Tickets, $75 per person, will include hors d' Oeuvres, open bar, and dessert reception and after-party, and require a gift to the 2010 JUF Annual Campaign. The minimum requirement is a match or increase to your previous JUF gift. If you have not given to JUF in the past, you are required to make a gift. For more information, contact the YLD office at (312) 357-4880 or visit  www.yldchicago.org .