Permanent link
11/18/2014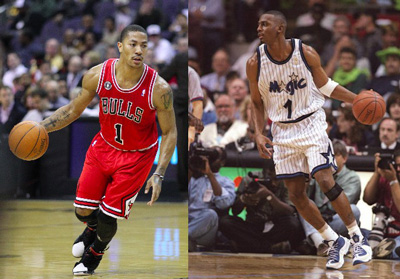 This feels all too familiar. Coming off of his second major knee surgery in as many seasons, Derrick Rose is having trouble staying on the court yet again. Two ankle sprains and now a hamstring have kept Rose out of half of the Bulls' first 10 games this season. The buildup of minor injuries such as these is exactly what led up to Rose eventually tearing his ACL during the 2012 playoffs.
When Rose has been on the court he has been good, showing flashes of his former MVP self. He's put up averages of 18 points and 5.5 assists per game, and displayed the same speed we always remembered. While the Bulls are taking a much more conservative, cautionary approach to his injuries this year, I cannot help but wonder if we are watching the beginning of the end for what was once a very promising NBA career.
An all-star caliber player with a unique skill set, an NBA lottery pick out of Memphis with potential to be one of the greatest point guards ever. Sound familiar? That's because we've seen this before.
Anfernee "Penny" Hardaway was selected third out of Memphis in 1993 by the Golden State Warriors and later traded to Orlando for the top pick, Chris Webber. During the 1994–95 NBA season, the Magic won a franchise record 57 games while Hardaway averaged 20.9 points, 7.2 assists, 4.4 rebounds, and 1.7 steals per game. He started in his first All-Star game and was named All-NBA First Team. The next season, Hardaway and Shaquille O'Neal led the Magic to the Eastern Conference Finals, only to lose to Michael Jordan and the Chicago Bulls. O'Neal left Orlando for the Lakers the next season; Hardaway was finally the lone star and leader of the team but failed to lead the Magic to another playoff win.
The very next year, Hardaway suffered a devastating knee injury and was never the same. His unique size and ability helped him still achieve some success, but his numbers dropped drastically. Hardaway couldn't stay healthy for a full year after that, battling foot and ankle injuries causing him to miss time until two micro fracture surgeries put him out for the season. He battled back and returned again, but he was a shell of the player he used to be in stints with the Suns, Knicks and Heat. Yeah, it's starting to sound like the Derrick Rose story.
But could Rose's story have a different ending, perhaps a more positive one involving the NBA title Hardaway never received?
The similarities of a year-by-year stat comparison of the two players in their first four years are mind-blowing. The fourth year for both players was strike-shortened and they both missed most of the following year with a career-changing knee injury.
| | | | | |
| --- | --- | --- | --- | --- |
| Year 1  | Games Played  | PPG  | AST  | Season Result  |
| Rose | 81  | 16.8  | 6.3  | Round 1 Loss  |
| Hardaway | 82  | 16.0  | 6.6  | Round 1 Loss  |
| Year 2 |   |   |   |   |
| Rose  | 78  | 20.8  | 6.0  | Round 1 Loss  |
| Hardaway  | 77  | 20.9  | 7.2  | NBA Finals Loss  |
| Year 3  |   |   |   |   |
| Rose  | 81  | 25.8  | 7.7  | East Finals Loss  |
| Hardaway  | 82  | 21.7  | 7.1  | East Finals Loss  |
| Year 4  |   |   |   |   |
| Rose  | 39  | 21.8  | 7.9  | Round 1 Loss  |
| Hardaway  | 59  | 20.5  | 5.6  | Round 1 Loss  |
Are we seeing another story of a potential NBA star's career cut short? The similarities are eerie and hard to ignore. For Bulls fans, you just have to hope this is not the case. The Bulls this season could be special and make a real run at an NBA title – but I don't believe that'll happen unless Rose is on the court, something we're starting to see as more of a challenge than I think he, or anyone, expected.
It's hard to imagine Rose ever returning to MVP form, and while Hardaway did develop into a quality role player, his career arc was riddled with injury. Maybe these little early season nicks are nothing, dealing with the rust of sitting out two years in a row. But it's hard to ignore that Rose's style of play is not built for a career of longevity. Players who move like he does and hit the lane with that amount of power and quickness don't play very long without making significant adjustments to their games.
Then there is the mental aspect, which is clearly starting to take a toll on Rose. A constant hot topic in the media, and understandably so, Rose is becoming more defensive all the time. On top of the fact that he has to continue playing knowing that any wrong turn on the court, any awkward landing, could spell the end for him.