Permanent link
10/22/2014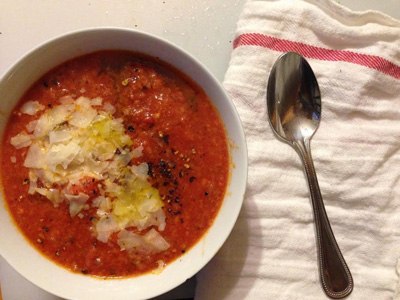 I have an incredibly depressing confession to make: I've started preparing myself for winter. I can't even believe I just typed that sentence, but it's true.
Last winter was a doozy and the know-it-alls that put together the Farmer's Almanac are saying that this year will be just as delightful. I don't want to be caught by surprise this time around, so I've been forcing myself to prepare for the torture that is to come.
I recently made a trip down to my basement storage unit and visited my winter coat. There she was in her little plastic storage box waiting for me. I could have sworn that I saw her giggle as I pulled her out of her summer home and reluctantly put her back in my closet.
It sounds awful, doesn't it? It gets worse. Once my coat was back I went into winter preparation overdrive. I put away my shorts, packed up my flip-flops and retired my straw hat.
All of that depression inspired me to try thinking positively about this change of seasons. I know we're not there yet, but why not start trying to have something to look forward to this winter?
I'm food obsessed, so naturally I turned to my kitchen for sunnier thoughts. You know what I realized? I miss grilled cheese and tomato soup. But not just any old tomato soup, I miss Ina Garten's fancy Pappa Al Pomodoro. What could be more comforting than a tomato soup recipe that has bread in it? Not much …
Ingredients
1/2 cup good olive oil 
2 cups chopped yellow onion (2 onions)
1 cup medium-diced carrots, unpeeled (3 carrots)
1 fennel bulb, trimmed, cored, and medium-diced (1 1/2 cups)
4 teaspoons minced garlic (4 cloves)
3 cups (1-inch) diced ciabatta cubes, crusts removed
2 (28-ounce) cans good Italian plum tomatoes
4 cups chicken stock, preferably homemade
1/2 cup dry red wine
1 cup chopped fresh basil leaves
Kosher salt and freshly ground black pepper
1/2 cup freshly grated Parmesan
Directions
Heat the oil in a large stockpot over medium heat. Add the onions, carrots, fennel, and garlic and cook over medium-low heat for 10 minutes, until tender. Add the ciabatta cubes and cook for 5 more minutes. Place the tomatoes in the bowl of a food processor fitted with the steel blade and process just until coarsely chopped. Add the tomatoes to the pot along with the chicken stock, red wine, basil, 1 tablespoon salt, and 1 1/2 teaspoons pepper. Bring the soup to a boil, lower the heat, and allow to simmer, partially covered, for 45 minutes.