Permanent link
10/18/2011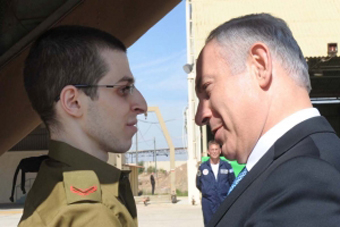 Israeli Prime Minister Benjamin Netanyahu greets Israeli soldier Gilad Shalit at the Tel Nof Air Force base in Israel shortly after his release from captivity, Oct. 18, 2011.
Gilad Shalit was reunited with his family shortly after crossing into Israel from Egypt after his release earlier in the day by his captors in Gaza, ending five years and four months in captivity.
The Israel Defense Forces spokesman announced Shalit's return at 11 a.m. Israel time on Tuesday. Shalit arrived in Egypt approximately three hours earlier.
Images of Shalit walking were broadcast by Egyptian TV, and in an interview Shalit said he was treated well by his captors but that he missed family, friends and freedom. The IDF reported that Shalit is in good health.
After meeting with IDF officials and Israeli Prime Minister Benjamin Netanyahu, Shalit was met by family members, and images of him embracing his father, Noam, were broadcast throughout Israel.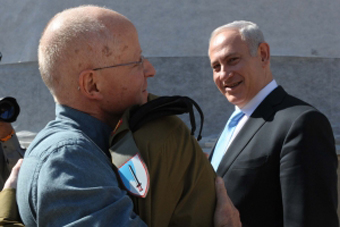 Israeli Prime Minister Benjamin Netanyahu looks on as freed Israeli soldier Gilad Shalit is embraced by his father, Noam, at Israel's Tel Nef Air Force base shortly after Shalit's release from more than five years of captivity, Oct. 18, 2011. 
Shalit's release came as Israel began transferring 477 Palestinian prisoners to the Red Cross as part of a swap deal between Israel and Hamas that will see the release of more than 1,000 Palestinian prisoners from Israeli jails. Eyewitnesses confirmed that some of the prisoners had begun entering Gaza.
Shalit's family was waiting for him at the Tel Nof Air Force base, where he was to be taken after crossing into Israel.
Jerry Silverman, President and CEO of The Jewish Federations of North America, made the following statement about Shalit's release:
"The North American Jewish community shares in the joy of Gilad Shalit's release. For years, we have hoped and prayed for his freedom and return to his family and to the People of Israel. From my own personal meetings with the Shalit family in the tent where they anxiously awaited this day, I am elated that they will be reunited with their son and mourn for the other Israeli families that have paid a painful price in this conflict." 
Shalit had been held in Gaza since being captured by Hamas in a cross-border raid in June 2006. JUF leadership released a statement last week sharing Israelis' joy at Shalit's imminent release last week. Read more about Shalit at www.juf.org/giladshalit.