Permanent link
01/31/2011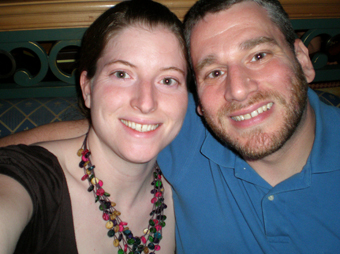 I just returned from one of the most amazing trips I have ever taken.  The best part—it was my honeymoon!  Remember that day you were all left in Chicago with below zero wind-chills?  I was on a beach in Aruba...
A lot of folks get engaged over the winter and then begin the exhausting task of planning the wedding.  For those readers in the midst of the wedding insanity, don't forget to make time for a great honeymoon.  As a new couple it is important to take time for just the two of you to escape as newlyweds and enjoy that wedded bliss.
Below are five things we did that made our trip extra special.  For soon-to-be and even not-so-soon-to-be Honeymooners, I hope the advice helps make your trip extra sweet.
1) Keep it simple
  
After the stress and chaos of planning a wedding, the last thing you want to do is have another complicated event.  Look at options that are easy to get to and all-inclusive.  Someday, I know we'll get to take that backpacking trip to the remote regions of the Congo, but that was too logistically challenging.  We picked a Caribbean cruise because we could get there in less than a day, and once we got there we didn't have to think about a thing. 
2) Pick somewhere new
We had been on a cruise before and both of us had traveled a little, but as a new couple we couldn't wait to explore a new place together.  Actually, because it was a cruise we visited not one, but six new destinations.  It gave us something to look forward to each day of the trip because neither of knew what to expect.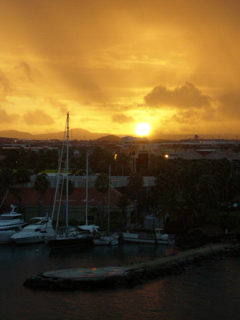 3) Go when it's best for you
  
A lot of people leave right after the wedding, and if that is the best time to take a trip, go for it.  We waited four and a half months for our honeymoon to make sure we could get the maximum amount of time away from work and leave at the best time.  Besides, we knew we would love taking off to warmer weather during the coldest time of year.  It was worth it because we were able to take 10 full days and feel great about it.  We added an extra weekend in San Juan, Puerto Rico before the cruise departed with the extra time.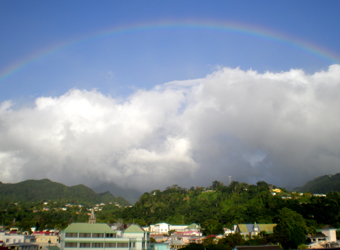 4) Take it easy
Prior to leaving for our trip we booked a flight, a cruise, and a hotel.  Beyond that, we wanted to relax.  We loved waking up with nothing to do and no agenda.  The advantage of the cruise was that activities were always happening on and off the ship.  Sometimes we chose to do them, and other times we chose to sit at the pool.  Food was available pretty much 24 hours a day so we never had worry about getting anywhere at anytime.  We even had room service bring it to us if we didn't feel like leaving the room.
5) Splurge for romance
After all, this is a honeymoon, so invest in the extras that will make it all memorable.  Don't take out a mortgage just to go on the trip, but spend a little extra to help keep that twinkle in your significant other's eye.  For us, we went for the mini-suite with the balcony.  It gave us the privacy we knew we would want on the ship.  Eating breakfast on the balcony while looking out over the ocean or drinking a glass of champagne under the stars was a dream for us.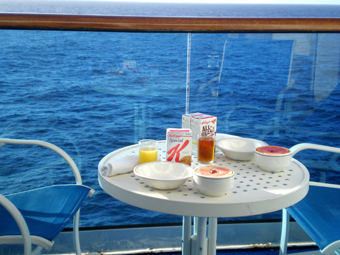 At dinner we were seated next to a couple that had been married 61 years.  You could tell they couldn't be happier and we only hoped that we might be like them after six decades of loving each other.  The honeymoon is not always about extravagance and over-indulgence.  I'll even admit that we found ways to save money when needed, so we could spend it when we wanted.  I really feel this trip has made a positive impact on our marriage.  It gave us a chance to pause for a moment, relax, enjoy something completely new together and fall even more in love as we begin the rest of our lives together.