Permanent link
01/30/2013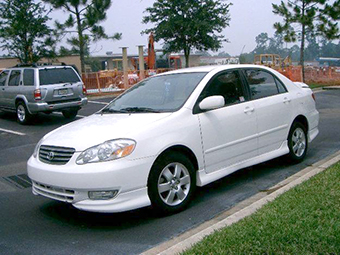 The tech bubble burst in the early 2000s and I was a casualty. Two companies I worked for went out of business. My career as an underpaid consultant was not leading me to a lucrative career. 
I traveled 100% of the time for the first company I worked for. I was in towns like Macon, Enid, Muskogee, and other exciting towns like Rockford. Please do not take offense if you live in these small cities. I'm just bitter that a coworker of mine would always end up in the big city, like Tulsa, while I was driving 500 miles around the great state of Oklahoma. 
My second consulting gig was a little more glamorous. I drove to Hoffman Estates for six months and then got placed on a project in McHenry, where I stayed at a Motel 6 for another six months. When I was in McHenry I would pack six or so sandwiches for the week and fruit and put it in the client's fridge. My coworkers would make fun of me, but at some point, someone always wanted half a turkey sandwich. 
My trusty leased Corolla took me back and forth to McHenry, Illinois. When our project ended, there was not much work to be had in the Customer Relationship Management software business. Sensing the end was near, I started working at Bally's part time. I also began throwing parties in Chicago as a promoter. 
Since I graduated from college I helped my friends throw parties at bars and clubs, for some reason a lot of Jews are in the business. Once my consulting days were over I spent my nights throwing parties and my days training whoever I could sell training too. This lucrative move helped me max out a credit card or two. 
Eventually I started working for my friend at the JCC in Skokie and I kept the other two jobs. The training was really starting to come together. I would take my trusted Corolla to Skokie, then to Webster place Bally's, and then I would double park outside of clubs and bars. Instead of throwing parties, I was taking pictures for a website (whatsupchicago.com) and selling online ad space for them. My debts were starting to diminish. 
As I cut expenses, I realized I could buy a car instead of lease it and pay less per month. So I did what any freak would do, I bought a car on my lunch break. I purchased a '03, white, Toyota Corolla. The car did not have power locks or windows, which forced me to be a gentleman and open the door for any guest. This would later provide my wife with material for ridicule. "You bought a car at lunch? You did not get power locks?"
My poor man's BMW drove like a dream. While most people took cabs, I walked or took my car. I never cared about parking it on the street or dings and dents from parallel parking. In ten years I only put 70,000 miles on it. 
My insurance company decided to put down the Corolla. In an accident where no one was hurt, and oddly neither my wife or I were driving the car, the Corolla did not survive. The insurance company decided that the price to fix the car exceeded the value. I was crushed. This was my baby, 10 years old and still running well. I wanted to keep this car for a few more years. It had character, it was missing three hubcaps, the trunk was stocked with fitness equipment, the glove box held every oil change and other work done, and most importantly it was paid off. 
Getting a new car was stressful. I had no idea at first how much money the insurance company would cover. I did not want a car payment so used cars were my only option. My wife and I visited a few shops with our son, who at 18 months loved opening the car doors, running around the galleries and did not want to sit still. Car buying attempt number two started Wednesday at 1pm. My wife and I drove from a dealer in Highland Park to Rogers Park. The same thing happened at both spots, "What can we do to get you from walking out the door." 
Next we drove to Des Plaines, almost bought a Hyundai. Starving, tired and approaching 8pm, we picked up some drive through food (disgusting describes the food and how we felt afterwards) and then off to dealership number four. This place was in Schaumberg. We drove two Honda Accords and decided the gold '04 drove the best. Finally, I think we found our car!
But then we could not agree on the price. We stormed out with a lot of purpose and Andy, the manager, stopped us. The usual car salesman smile, "Come on, don't leave. We have a deal." 
Andy agreed to our price! We arrived home that night at 9:30 pm. While driving my new ride, with heated seats, power locks and windows, I was happy and really tired. My high school car crush was a Mitsubishi Eclipse, and then I saw a totaled one on the street. It looked like a ball of tin foil. I started to crush on a new car, and now I own it!