Permanent link
The Truth About 1950s Sitcoms
01/29/2013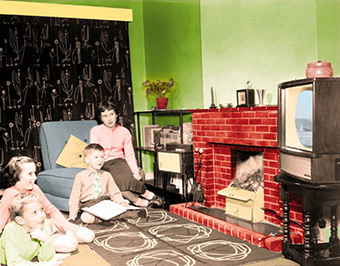 I keep hearing people holding up the 1950s sitcom as the standard for family structures, notably Leave It to Beaver and The Adventures of Ozzie and Harriet. Aside from the fact that I don't even take my family advice from the shows that are on now (do that many people really have a Modern Family family?), I started wondering…
Were the sitcoms of the 1950s only about families with a mom, dad and a couple of kids? I decided to find out.
I found a website that listed 117 sitcoms that aired during the 1950s. I found 80 of them depicting family units or other relationships. Here is what I found:
Yes, the largest group was the one that depicted parents and children. These include the ones mentioned above, and also others whose names we still recognize: Father Knows Best, Life With Father, and Make Room for Daddy.
But there was variety even here. For instance, I Love Lucy featured a family in which the father was an immigrant, and The Goldbergs were Jewish. The show Mary Kay and Johnny showed a married couple sharing a bed, and a pregnant woman, on TV as early as 1948. Another, The Life of Riley, is credited as being one of the first shows to depict lower-class family life.
All of these shows together, however, still only come to 26— not quite a third of the family/relationship sitcoms on air in the 1950s.
Another 16 that I found do show married couples, but without children. Many were married for several years (i.e. seasons) and still had no kids. This fact gives lie to the idea that marriage was always seen as being predominantly for the purpose of procreation. Such famous shows as Burns and Allen and The Honeymooners showed longstanding childless couples. With Blondie coming to TV from the funny pages, Fibber McGee and Molly coming from radio and The Thin Man and Topper coming from the movies, it seems fairly clear that the childless couple was a widely accepted norm. 
Another family structure depicted as early as the 1950s was that of the single parent. While My Three Sons did not debut until 1960, the show Bachelor Father was already on before that. Yes, that show depicted a single man raising his orphaned niece, but other programs, from The Eve Arden Show to The Dennis O'Keefe Show, portrayed single parents raising their own children.
In all the cases I found (three single-mother/adoptive aunt shows and five single-father/adoptive uncle) the reason for single parenthood was the death of the spouse, not a divorce. Evidently, that reality was a bridge too far for a 1950s sitcom. 
I also found a half-dozen shows with dating, but yet unmarried couples, including That Wonderful Guy, featuring future movie star Jack Lemmon.
But what struck me was the large number of shows featuring singles on the dating scene, half a century before Seinfeld and Sex and the City. Such stars as George Burns, Ray Milland, and Ray Bolger (the Scarecrow from Wizard of Oz) played men-about-town.
And while the show How to Mary a Millionaire continued the plot of that gold-diggers-gone-wild movie, So This is Hollywood showed a single woman who wanted to do movie stunts, and The Adventures of Tugboat Annie showed the life of a woman who captained her own vessel. December Bride, decades before Golden Girls, showed the life of a single, older woman still looking to date. 
Already, by the 1950s, African-American actors were appearing on, and even starring in, their own shows. So were women, who were depicted as running their own successful businesses, not dependent on anyone. Jewish, Italian, Irish, Hispanic and other immigrant characters also married, had children, and supported themselves and their families in the America inside those wood-encased TV sets.
So the answer, as I suspected, was no. No, the makers of the sitcoms of the 1950s did not "leave it to Beaver" to depict the variety and scope of American family life at the time. They also left it to Beulah and Amos 'n' Andy, to Luigi and Bonino, to Duffy and Mr. Sweeney. They left it to the Bachelor Father and Mama Rosa, to the Boss Lady and Our Miss Brooks.
Even before the advent of color television, it seems, everyone knew that life was not black and white.