Permanent link
01/25/2013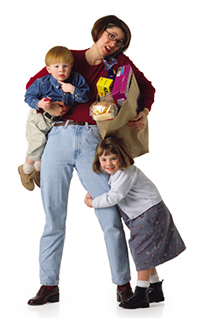 The entire phrase "you can do it all" must be dismantled from its shaky roots, swaying in an imaginary location deep in never-never-land, where children with needs do not exist, where a day is made up of 200 hours, and where choices do not have consequences.
A person cannot do it all, they must choose and they must make sacrifices. The tale of the Supermom is a flimsy attempt at a chickflick gone wrong; beyond that, it is not something to strive to reach. One must instead strive for what their mission is and, unlike the General Education focus of our upbringing, specialize, specialize, specialize. Specialize in what they do best. Put a little bit of time into those activities, set aside a lot of time for the odds and ends that is existence, and slowly and steadily rise.
You cannot watch your kids constantly and have someone else watch them for you. You simply must make a choice. There is no shame in staying at home, and there is no guilt in going to work. The end question is all in the intention, the goal. 
The question is not: Can I do this. As women, we know it is possible to climb any rank of business. That is no longer our question.
Now, it is not about me acting upon the job, but what will this job do to me? Will it make me into a better mother, a more balanced wife, a healthier Jew? How does my job impact the roles of my life?
It is that integration, from what I do to who I am, that is essential, that must be considered. And while a college resume may be impressed with the person that is taking on seven different clubs and three after school activities, a busier mom, a more responsibility-laden wife, and an overwhelmed Yid are not necessarily things that will elicit positive reactions from the recipients; the children, the husband, the friends. 
I have thought of this deeply, as I took on a new job. One that required what I thought was nothing- four hours/day (of things not directly in my line of interest, the arts).
As I soon found out, the sacrifices were great. By the time I got home to rest, there simply wasn't enough time in my life for all of the things I cared about, especially my daughter and husband. Something had to give. For if you do too much, everything suffers. I had to focus on my core interests and specialize. 
The "you can do it all" motto is so passé. The Supermom imagery is old news and unrealistic. But the specialized, integrated mother, whose activities are work in whatever form she chooses, that builds her emotional, physical, psychological (even spiritual) muscles—that is the new thing.