Permanent link
01/15/2014
I don't know about you, but the Polar Vortex had me glued to my couch last week. When it's so dangerously cold that going to work is out of the question, there aren't many entertainment options. I coped by staring up at the ceiling (one of my favorite winter activities) while daydreaming of warmer days. What else are you supposed to do when you're freezing AND all of your favorite TV shows are on hiatus?
Don't call for the men in white coats just yet. I promise I haven't completely lost my mind. While the super cold temperatures last week did get me down, the chill was only part of the problem. I have been suffering lately from what a lot of Jews deal with this time of year. I call it Post Florida Depression (PFD).
Laugh if you must, PFD is real! Every year between Christmas and New Year's Day, my family makes a mass exodus to Southern Florida. We sit in the sun during the day and see the latest movies at night. I know. We are a living, breathing Jewish stereotype – except for the part where we're mostly young.
Going to Florida during that holiday week feels like magic. While all of Chicago is depressed because the sun has gone down at 3, we're still tanning by the pool. When Chicago is crying because it only has 3 little degrees, we're half-clothed and dancing in the streets that it's near 80. I could go on with a list of Southern Florida's charms this time of year, but I don't want any hate mail.
Like every spell that is cast, it's hard to believe that it will ever end. When I left Florida the Saturday before the Polar Vortex it was sunny and 78. When I got here it was an eye-opening 10 degrees. I guess when you cheat on the Windy City with your Jewish mistress, Florida, that's the sort of welcome home you deserve.
Since arriving in Chicago I've been suffering from PFD and mostly attached to my couch. How is a person supposed to eat a decent meal when the couch is calling? By firing up the Slow Cooker, of course! When you're suffering from PFD or the Polar Vortex or whatever sort of Winter Blues might be making a visit, this recipe for a slow cooker pot roast will keep your spirits up.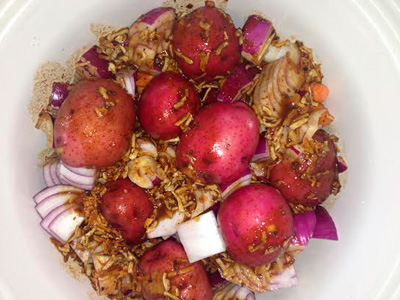 Ingredients
1/2 cup A1 Original Steak Sauce
1/2 cup beef broth
1 pkg. (0.9 oz.) onion-mushroom soup mix
1 boneless beef chuck eye roast (2 1/2 lb.)
1 lb. new red potatoes
1 pkg. (16 oz.) baby carrots
1 onion, thickly sliced
Directions
Mix first 3 ingredients until blended.
Place meat in slow cooker; top with vegetables and sauce. Cover with lid.
Cook on LOW 8 to 9 hours (or on HIGH 6 to 7 hours).