Permanent link
01/11/2013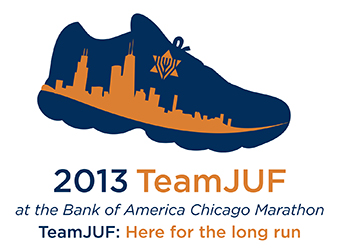 Make a New Year's Resolution to be healthier and help those in need by joining TeamJUF at the 2013 Bank of America Chicago Marathon on Sunday, October 13, 2013!
TeamJUF members don't just race for the finish line. They help thousands of people throughout Chicago and around the world. And they have a blast doing it. TeamJUF participants will enjoy the benefits of fully-supported training in partnership with CARA (Chicago Area Runners Association), tech shirts, fun runs, social opportunities, race day amenities and more.
Your 26.2-mile challenge starts here:
1. JOIN US: Sign up for TeamJUF at www.juf.org/marathon.
2. REGISTER TO RUN: On Tuesday, February 19, 2013, sign up for the Bank of America Chicago Marathon at www.chicagomarathon.com. (Joining TeamJUF does NOT register you for the run. You need to do that separately.)
3. TRAIN: CARA Summer Marathon training starts June 2013.
4. RUN: The Marathon is Sunday, Oct. 13, 2013. TeamJUF members will be required to commit to a fundraising minimum of $500 for the 2013 JUF Annual Campaign. This minimum is in addition to a runner's individual 2013 Annual Campaign gift.

Not a runner? You can still be a part of TeamJUF. Volunteer. To find out more, go to www.juf.org/marathon, email marathon@juf.org or call (312) 357-4877.