Permanent link
All Posts
03/08/2011
Sharon Eyal working with Hubbard Street dancers at Hubbard Street Dance Center. 
Photo by Benjamin Wardell.
Hubbard Street Dance Chicago is bringing Israeli culture to the stage in Chicago this month.
In what they are calling "one of the most culturally significant initiatives" in the company's history, Hubbard Street will "unite Chicago audiences with Israel in a cultural expression through dance" in a full evening of works by two Israeli choreographers from the Batsheva Dance Company in four performances March 17-20.
The show will include a new collage, currently untitled, by the Batsheva Company's artistic director, Ohad Naharin and the world premiere of Too Beaucoup, created by Batsheva house choreographer Sharon Eyal.
Naharin, who has choreographed many works for the Hubbard Street company over the past decade, also had the opportunity to work with the company in Israel in 2009. Naharin's piece will be a collage of past works, all based on and inspired by the synergy of the "Gaga" method of movement researched and developed by Naharin himself.
"Gaga is amazing," Eyal, a protégé of Naharin said of his style. "It's dancing from joy and fresh and good material in the body…You move, and you have an instructor who says what to do, but it's a lot in your imagination, through your body, through the physicality and it's really deep work. It's influenced me for my life."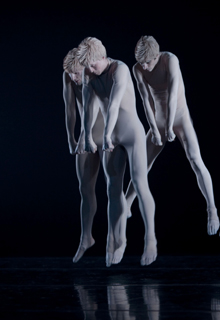 Hubbard Street dancers Benjamin Wardell, Christian Broomhall and Alejandro Cerrudo in Sharon Eyal's Too Beaucoup.
Photo by Rose Eichenbaum.
This new medley—a showcase of work that Chicago audiences have not seen before—will feature a uniquely varied soundtrack including music ranging from Vivaldi to The Beach Boys.
Chicago audiences will also experience the world premiere of Too Beaucoup, created by Eyal and her co-creator Gai Behar.
Too Beaucoup, meaning "too too much" in French, aims to manipulate and replicate precise and robotic movement that offers a sense of watching a 3-D video. Costumes—designed by Behar, lighting by Avi Yona Bueno and a soundtrack designed by Israeli musician and DJ Ori Lichtik all contribute to the unique quality of the piece.
When asked to describe their work, Behar said to "expect the unexpected" and to look forward to viewing "authentic Israeli art."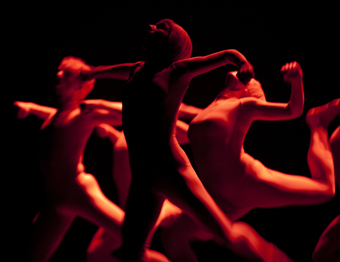 Hubbard Street dancer Kellie Epperheimer in Sharon Eyal's Too Beaucoup.
Photo by Rose Eichenbaum.
"For us, structure, composition, dynamics of movements or complex of stuff can be very, very emotional," Eyal said. "I don't like to put it in a frame—I don't know what it is. It's movement, it's action, it's feelings. Maybe it's more when people dance in the street. It's a lot of human. There is no frame for it."
They said the piece does carry some of their Israeli culture, but they are also influenced by daily life and their surroundings.
"Every place that you are, you get inspired," Eyal said. For me it's not culture, it's more about daily life. So it's maybe [partly influenced by Israeli culture], but it's part of something bigger."
Hubbard Street Dance Chicago's Spring Series will take place Thursday, March 17 at 7:30 p.m.; Friday, March 18 and Saturday, March 19 at 8 p.m.; and Sunday, March 20 at 3 p.m. at the Harris Theater for Music and Dance, 205 E. Randolf Drive, Tickets, priced from $25 to $94 are available for purchase by calling (312) 850-9744, at  www.hubbardstreet.com , or at The Harris Theater box office located at 205 E. Randolph Drive.
***Oy! readers can enjoy a 25% discount on a regular priced ticket (excluding section 5 seating) – use code "Israel".