Permanent link
All Posts
01/11/2011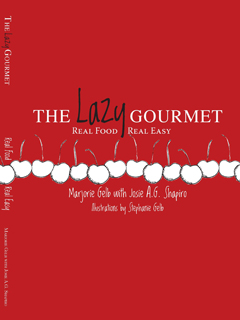 Back during the women's lib movement, Marjorie Gelb was part of the first generation of professional women that were climbing the career ladder.
She was a fulltime working lawyer, a wife, and a mother of two. She wanted a fulfilling career, but she still desired to put high-quality food on the table for her family. In fact, Gelb identifies herself as a gourmet, defined by the French as "someone who likes to eat good things."
Her love of cooking had started many years before having a family when she had taken classes at the prestigious Cordon Bleu cooking school in Paris. From her culinary beginnings, she strived to use fine ingredients, fresh produce, vibrant herbs and spices, and the freshest fish, chicken, and meat, and avoid processed foods as much as possible.
After learning to cook the old-fashioned way, Gelb relearned to cook gourmet food, this time in a fraction of the time. Translation: She became a "lazy gourmet."
"Women like me discovered it was hard to work all day and then come home and have the time and energy to put a nice meal on the table," said Gelb, who is Jewish, and lives with her husband in Oakland, Calif. "…But I didn't want to compromise on good food. I wanted to know what we were eating. So I looked for recipes everywhere that seemed to cut corners." 
In the past 40 years, Gelb has amassed a phenomenal repertoire of fast and easy recipes that meet her high standards. Some of her dishes have been adapted from Julia Child's Mastering the Art of French Cooking, intended for the American cook looking for "something wonderful to eat." Others have come from other busy moms and chef friends she has met along her culinary journey.
Now, Gelb is a semi-retired grandmother, who has more time and energy for cooking than she used to. But she wanted to teach others—like her daughters and their friends working long hours and establishing households with little time on their hands—her "lazy gourmet" techniques.
So, with the help of her daughter Josie A.G. Shapiro, a writer, an avid "cooking contester," and a busy working wife and mother herself, Gelb has released a cookbook called  The Lazy Gourmet  (Watchword Press), publishing all her lazy recipes and shortcuts for people who want to eat good food fast. (Gelb's sister, Stephanie Gelb, drew the illustrations in the cookbook, making the project a family affair.)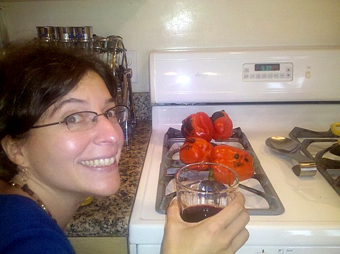 Josie A.G. Shapiro takes a break from the cooking and has a drink.
"For me, the most fun part of writing the cookbook was talking to my mom on the phone and learning her stories, tips, and tricks, the origins of her recipes, and her telling me things about her life that I didn't know," said A.G. Shapiro, a former Jewish Federation of Metropolitan Chicago employee, who now lives in San Francisco. "I could hear all my mom's stories and her perspective about what it was like being a working mom with two girls when I had just had my daughter, Naomi."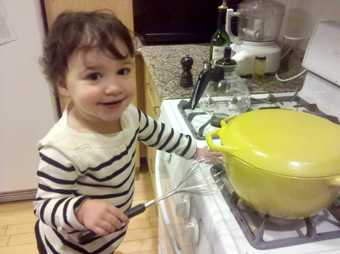 2-year-old Naomi follows in her mom and grandma's cooking footsteps.
Naomi, age 2, it seems, is the next generation of chefs in her family, already cracking eggs for her mom and grandma's recipes. "Part of l'dor v'dor (from generation to generation) is what my mom did for me—nurturing and loving me through the kitchen," A.G. Shapiro said. "I want to show my daughter that I care what I'm giving to her and I want her to grow up and love cooking too."
The Lazy Gourmet defines a "lazy recipe" as one that won't require an obscure ingredient, won't call for lots of steps or chopping, and won't employ lots of dishes, pots, pans, or utensils. Gelb confesses, though, that her husband always does the dishes in her home, but she wants to be kind to others reading the cookbook who aren't so lucky.
The book of 127 recipes includes tips and tricks from "The Lazy Gourmet," includes a list of recipes made from "Imperishable Ingredients," food you can keep stocked in your kitchen to save you a grocery trip after a long day. Another section called "One Dish Wonders," serves up recipes you can make using you guessed it—only one dish. And "Make Ahead Magic," offers sauces and marinades to prepare in advance.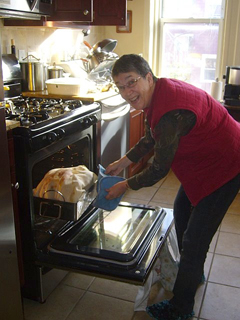 The "lazy gourmet" in action.
Gelb shares a couple of her laziest tips of all: Serving breakfast for dinner has changed her life, she says, like her simple Egg Soufflé, which she'll make in 20 minutes for her family after a long airplane trip when no one has gone to the grocery store.
And, she adds, "I think lettuce in a bag is the best thing since sliced bread."
To order a book, visit  www.realfoodrealeasy.com .