Permanent link
All Posts
06/10/2008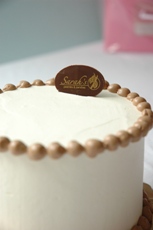 Sarah lets everyone eat cake
Chicago native Sarah Levy is passionate about her dessert. Growing up in a family full of food connoisseurs, (think Spiaggia and Bistro 110) Sarah knew early on that her specialty was pastries. Just two weeks after graduating from Northwestern University with a degree in Sociology, Sarah decided to pursue her dream of opening her own bakery and enrolled at the French Pastry School of Chicago. In no time, she had a burgeoning wholesale sweets business running out of her families' kitchen. Today, Sarah runs two shops at 70 E. Oak St and in the Macy's on State. With a wide variety of delicious treats ranging from chocolate dipped candies to elegant wedding cakes and breakfast delights, Sarah's Pastries and Candies is a favorite Chicago sweet spot.
So, whether you kick it old school without an iPod, dig Jewish diners, or need your daily chocolate fix, Sarah Levy is a Jew You Should Know!
1. What did you want to be when you grew up?
I wanted to have my own bakery one day!
2. What do you love about what you do today?
Honestly, my favorite part is getting to eat sweets all day! Food has always had the ability to make me happy. I also love being able to create something that can make others happy. It's such a great feeling to have someone come in and say that the birthday cake we made for their daughter was the hit of the party, etc....
3. What are you reading?
I just read  Gang Leader for a Day —great book!
4. What's your favorite place to eat in Chicago?
I love Mia Francesca, Coast and Ron of Japan! (and there are so many more!)
5. If money and logistical reality played no part, what would you invent?
The most delicious tasting pastry, that just so happened to be fat free and calorie free.
6. Would you rather have the ability to fly or ability to be invisible?
Invisible.
7. If I scrolled through your iPod, what guilty pleasure song would I find?
Believe it or not, I don't have an iPod, but I love old school Madonna and Michael Jackson.
8. What's your favorite Jewish thing to do in Chicago—in other words, how do you Jew?
I love frequenting Jewish delis like Ashkenaz and Eleven City Diner.