Permanent link
All Posts
10/14/2010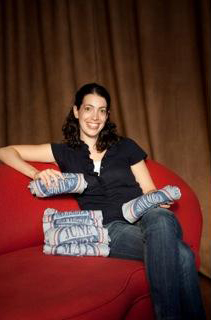 Like many women, Chicagoan Erin Rutman was disappointed by the lack of cute maternity clothing available during her recent pregnancy, but not for her…for her husband, Jonathan. So she decided to do something about it and launched BellyMan, a clothing line for the hubbies who are expecting, but don't have growing bumps to announce the news. Erin describes the line of vintage due-date tees as the next best thing in maternity wear for the "other" half.
While not working on her clothing line, Erin is a busy mom to two girls and she's also the chair of PJ Library in Chicago, a free program that delivers young children Jewish books and music each month.
So, if you want to wear your paternity proudly, enjoy giving back to the community or laugh at the comedy of Adam Sandler, Erin Rutman is a Jew You Should Know!
1. What is your favorite blog or website?
I can be found googling the latest trends in men's fashion and keeping up to speed on the maternity industry by reading and tracking dozens of mommy bloggers.
2. If time and money were limitless, where would you travel?
I have never been to Israel so that would at the top of my list.
3. If a movie was made about your life, who would play you?
I was shopping in a kids store on Armitage and the owner asked me to take off my sunglasses to make sure I was telling her the truth that I indeed was not Anne Hathaway.
4. If you could have a meal with any two people, living or dead, famous or not, who would they be?
I love Adam Sandler. I never had the chance to meet my Dad's mom Ida (who my daughter Isabelle is named after).
5. What's your idea of the perfect day?
Sleeping in past 6am (thanks to my beautiful daughters).
6. What do you love about what you do?
When we were expecting our first daughter, (who now has a little sister!) there was absolutely nothing available for the dad-to-be, except a handful of gimmicky items. From that moment, my mission was to create a line of due date shirts available for men to help share in the pregnancy pride. And, alas, four years later, came BellyMan (sometimes known as our 3rd child)!
7. What job would you have had if not the one you have now?
Photographer.
8. What's your favorite Jewish thing to do in Chicago?
Celebrating Shabbat with my family.