Permanent link
All Posts
05/27/2008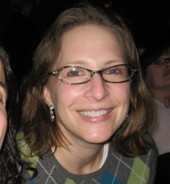 Polly, lookin' pretty sweet
People generally have nice things to say about me. They call me sweet and friendly… I've even heard "you're just a doll" more than once, but I didn't let it go to my head, because that's not what dolls do.
But suddenly, I just don't feel like living up to those lofty adjectives. Don't get me wrong; I like being sweet. Saying thank you to the bus driver or holding the door open for a mom pushing a stroller are, apparently, unusual acts of kindness these days. But, if I'm honest with myself – and if you watch Oprah, you know it's all about honesty, girl – the adjective that seems to be fitting me like a glove these days is bitter.
I've been trying to fight it, but bitterness may be my destiny. See, I'm named after Great-Grandma Pauline: a woman who had a great sense of humor and took it in stride when her sons made moonshine in the bathtub and her daughters let the Shabbat chickens run free. Not a bad lady to be named after, right? Everyone called her Grandma Polly.
So, I'm Polly. The definition of which is bitter. Seriously, look it up.
As a name, Bitter is bad. My sister is Gracious and Merciful, but we just call her Jane. Undeniable proof of blatant favoritism and another reason to be bitter, but not today's focus.
So, you may ask, "What's got you so bitter, Bitter?"
Dating.
I know, I know, that sounds frivolous during this time in history. There are so many important issues worthy of our discussion and debate; war, politics, energy prices, poverty, education, global warming… the list is endless. Being bitter about dating seems pretty low on that list of Upsetting Things.
But in reality, a side effect of war and all the other serious issues of our day is that it makes the singles among us feel a little more single. If you're not married or dating someone, you miss out on those quiet moments spent talking about things that really matter to you, whether they're on the world stage, or the little things, like when Trader Joe's was out of my favorite chocolate yogurt. Does anyone care what a bummer that was? No, not even the people at Trader Joe's, though it's nice that they pretend to. But a boyfriend or husband will listen… or at least physically be there, so we can talk to a figurative wall instead of a literal one.
Dating is just plain frustrating for every single single person I know, and it's especially frustrating if you're looking for someone Jewish, simply because we don't have numbers on our side. We try to keep our heads held high, but we can't help it; occasionally we're hit by a flood of bitterness.
Here's an example: Whenever I mention to anyone who's married that dating is frustrating, they say something like this: "You should try Jdate. I hear people meet all the time on Jdate."
My response: "Really? Cool. Hey, I know! In my essay 'About Me,' I'll say that I'm just as comfortable in jeans as I am dressing up for a night on the town; in 'My ideal relationship,' I'll say that I think communication is really, really important for any relationship to work. I'm both brilliant and original! That's certainly a combination and that any Jewish fellow would be happy to find in a Jewess! Thanks for the advice! See you at my wedding!"
Okay, I don't actually say that, but that's what my bitter mind thinks. The sweet me says, "Yeah. Jdate. Thanks."
Of course I've gone on Jdate! Yes, some guys were nice, some were odd, and some started out as nice until I met them and they morphed into weirdos before my very eyes. Just a tip, guys: Tell a girl that your marriage lasted only two weeks because your wife was a vegan, an alcoholic and not sure of her sexuality before the first date or after the 10th, not on the actual first date. True, if you tell girls before, not as many of them will meet you for coffee, but all you need is the one who does. That's free advice. You're welcome.
I tried Jewish speed-dating, too, and was completely nervous before it started. But then I ran into a girl I went to day camp with and hadn't seen for 25 years, so it started taking on a more adventurous feel. Who else might I meet? Thirty-six possibilities in two hours? Bring it on!
There were actually a few guys I could've talked to for a lot longer than the three minutes we were allowed. But with others, it was like being hungry and standing in front of the microwave; as fast as the time goes, it's just not fast enough.
At the end of the night, though, I was feeling pretty good. I'd written down the names of nine guys I'd be interested in seeing again.
One of the nine put my name down. One. Out. Of. Nine. The friend who I went with had five matches; my camp friend, seven. (And my one put down their names, too… his criteria seemed to be tall, short, blonde, brunette, loves skiing, hates skiing, breathing.)
The question is, how do you meet your beshert? At work? Through friends? Should your parents set you up? Should their friends set you up? Do you meet guys at the grocery store, or running by the lake? Leaving my iPod at home would probably help, but isn't it possible to have it all: Foo Fighters and a great date?
In an effort to change course, I thought I could start going by my Hebrew name: Miriam. I looked that up, and guess what? "Sea of bitterness." In Hebrew, my bitterness only grows, and now it's filling a sea.
So from now on, call me Angelina Jolie Levy… "little angel" and "pretty." She's had seems to have some luck. Let's see what happens.
Polly Levy spent 8 years in Los Angeles where she wrote for Suddenly Susan, and was a Script Coordinator for Frasier, Gilmore Girls and some other TV shows no one has ever heard of.
Now living in Chicago, she is a Senior Content Producer at NogginLabs, where she writes online e-learning courses. In addition, she freelances for the website development company Azavar Technologies.
When not complaining about dating in writing, she can be found complaining about dating at brunch, at the movies, and while shopping. Complaining about dating is off-limits, however, while on actual dates.