Permanent link
All Posts
05/27/2008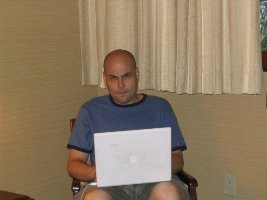 Nathan, writing something hilarious

When he is busy at work as head writer of The Onion's A.V Club, Nathan Rabin may or may not be wearing pants. He co-authored the 2002 A.V Club interview collection, Tenacity of the Cockroach , as well as an upcoming book to be published by Scribner, which also will be publishing his solo debut, The Big Rewind: A Pop Culture Memoir, sometime in 2009. Rabin lives in Chicago with two cats.

So if Bill and Ted's Excellent Adventure changed your life, you're an Onion lover or you enjoy ribs, Nathan Rabin is a Jew You Should Know!

1. What did you want to be when you grew up?
Like a lot of young people, I cycled through dream job aspirations pretty rapidly, hitting all the usual suspects: baseball player, movie star, FBI agent, cartoonist, robot, dragon, princess, ninja, robot and also Robot Ninja Princess. For a long time I thought I wanted to be either a Senator or a police officer. Then I realized that I hated authority figures, and didn't really want to become one.

When I was 12-years-old I had a Road to Damascus moment watching Bill & Ted's Excellent Adventure. I was going through a particularly tumultuous period in my home life, but for two glorious hours all I cared about was the fate of Bill S. Preston Esquire and Theodore Logan. I decided right then and there that I wanted to be a part of anything that could give people so much unfettered joy. In that moment a film critic was born.

2. What do you love about what you do today?
What don't I love about my job? It's pretty fucking sweet. I get to talk to famous people, watch ridiculous movies and write about all the weird pop ephemera that obsess me. Also, I don't have to wear pants for it, which is odd, since I work out of an office.

3. What are you reading?
Sammy Davis Jr's Yes I Can. It's best known to my generation as the book that made Krusty The Klown's rabbi father appreciate the spiritual richness of show business. It's also quite Jewy in the best possible way.

4. What's your favorite place to eat in Chicago?
I appeared on Check, Please a while back, where I raved incoherently about Fat Willy's having "the best brisket in the world." That was my sad little catch phrase: "The best brisket in the world!" So, Fat Willy's. Yeah, that works.

5. If money and logistical reality played no part, what would you invent?
A machine that would allow you to operate a television from several feet away. They haven't invented that yet, have they? I don't really keep up with the times. If that doesn't work how about coffee with the caffeine removed? Or Pepsi you can see through? They're all fine ideas.

6. Ability to fly or ability to be invisible?
I'm one of those clichéd souls who continually dreams of flight. Also, whenever someone is given the gift of invisibility they invariably turn into a lecherous, greed-ridden monster. So I'm going to have to go with flight.

7. If I scrolled through your iPod, what guilty pleasure would I find?
I am all about a promising young singer/songwriter named T-Pain. You're probably not familiar with his music—he's flying low under the radar at this point—but he's the gentleman who sounds like a robot on top 40 radio. I am not too proud to concede that I have more than one version of "Buy U A Drank" on my iPod and that I listen to them regularly.

8. What's your favorite Jewish thing to do in Chicago—in words, how do you Jew?
That is a good question, and one that made me realize just how secular of a Jew I really am. I guess for me the Jewiest place in all of my Chicago is my dad's apartment, where I go every Friday night for the most half-assed of Shabbat dinners. We're all about improvising.

For example: one night my dad couldn't find a yarmulke so he put a paper napkin over his head to light the candles. That quickly went awry when the napkin caught fire and had to be doused with wine. Oh, the hilarity that ensued! So yeah, for me at least my dad's apartment is the epicenter of the Chicago Jewish community. Definitely, Shabbat dinner with my dad is my favorite Jewish thing to do in Chicago.