Permanent link
All Posts
Local author brings writers together 
05/20/2008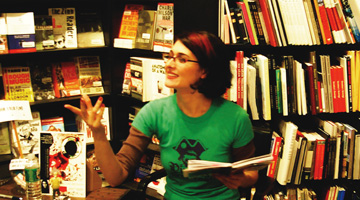 Amy Guth brings bibliophiles together May 22-25
Inspiration struck Chicago novelist Amy Guth while she was touring the country to promote her first novel, Three Fallen Women. Encouraged by the camaraderie she found at various small-press literary and book festivals and readings nationwide, she wanted to create a similar experience for writers in Chicago. "My experience with literary festivals has been so positive," she says. "Writing is such a solitary thing to do. It's easy to forget that there are other people out there working and hoping for the same things."  The Pilcrow Lit fest was born.
Writing might be a solitary occupation, but the growing, nationwide buzz surrounding Pilcrow (named for the symbol used to note the start of a paragraph) is promising to unite a multitude of bibliophiles—writers, readers and publishers alike. Guth originally hoped to find 20 participants to fill the roster. At last count, 80 writers, publishers, and booksellers have signed on, traveling from across the country and as far as Switzerland to discuss current trends, present their work, and moderate conversations on topics on everything from social media to poetry.
One of the most provocative hours on the agenda is The God Language Panel, a moderated discussion between several authors who write about what Guth calls the new taboo. "I think people can talk openly about something if they are either very, very certain or very, very disconnected," she says. "Maybe that's more a cultural commentary, really. We know our celebrities' mental health status, grooming habits, love lives…but somehow God and religion can still make people start squirming. Perhaps the art of friendly debate is a thing lost, and the lines between discussion and argument are gone."
This polarity is something that Pilcrow is designed to avoid. All participants are given an equal forum—there are no headliners. While some books and authors might be better known or more widely read, the emphasis at this four-day festival is on the writing community at large.
And for Guth, sharing the words of others connects back to her commitment to Judaism. "I think Tikkun Olam is one of the things I like most about Judaism," she says. "I really, truly, deep-down believe we have an obligation to help and share when opportunities present themselves."
"I don't draw a lot of lines, really, about what is a "Jewish thing."  Things just are. Everything has a sacred aspect—it's all in mindfulness and approach. After I've had a really productive day of writing, I feel great, I feel like I've done well, and done something I find a great deal of meaning in. I think that's another lovely aspect of Judaism. We don't talk a ton about what we are or are not believing, but far more about what we are and are not doing."
Amy Guth is certainly doing something, and through Pilcrow Lit Fest, the entire community stands to benefit.
Check out the Pilcrow Lit Fest May 22-25.