Permanent link
All Posts
05/20/2008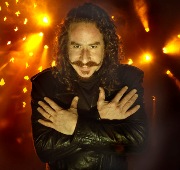 Ari Lehman, scaring you since 1980
Ari Lehman scared the hell out of you back when you were a kid. After sneaking into a film audition, he landed the role of Jason Voorhees in the original Friday the 13th movie way back in 1980. The musically inclined scary guy from Connecticut relocated to Chicago in 2002 and formed a Jewish-tinged reggae-rock band called the Ari Ben Moses Band. His horror fans took notice and he unleashed upon them… FIRSTJASON! Today, his monster-metal band plays horror conventions worldwide.
So whether you're a fan of scary movies, into punk rock or have, yourself, acted in Fiddler On the Roof, Ari Lehman is a Jew you should know!
1. What did you want to be when you grew up?
I have always wanted to be a singer and an actor. When I was around ten years old, went to an intercommunity camp in Westport, Connecticut, and got cast as Tevye in their production of Fiddler On the Roof even though I was half the height of most of the girls playing my daughters!
My entire family came out to see it, even my Nana and Papa from Brooklyn. It was an amazing moment. I brought the house down with "If I Were a Rich Man!" I have played in stadiums all over the world, but I doubt I will ever top that performance…
2. What do you love about what you do today?
Currently, I lead my monster-metal band, FIRST JASON, act in independent horror movies, compose and perform soundtracks for various film projects, and attend conventions to sign autographs for the fans of Jason Voorhees. The best part is the interaction with these dedicated fans.
3. What are you reading?
Hidden Faces, a novel by Salvador Dali, Meditation and Kabbalah by Aryeh Kaplan and Brando, a biography by Peter Manso
4. What's your favorite place to eat in Chicago?
Chicago Diner, Ante Prima and Tel Aviv Pizza
5. If money and logistical reality played no part, what would you invent?
An electromagnetic personal shield that rendered all firearms ineffective.
6. Would you rather have the ability to fly or ability to be invisible?
To Fly, to fly!
7. If I scrolled through your iPod, what guilty pleasure song would I find?
"Big Take Over," Bad Brains and "The Brews," NOFX.
8. What's your favorite Jewish thing to do in Chicago-in other words, how do you Jew?
I love to shop on Devon at the Jewish bakery and grocery store. I once found some kosher for Passover wine from France that was AMAZING there!