Permanent link
All Posts
05/06/2008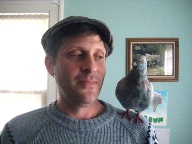 Joey Garfield and his muse, the hip hop pigeon
Joey Garfield says he thinks in pictures. And lucky for us, he makes a living sharing those images with the world through his documentary films. "I'm a visual guy. That's how I express myself best," he says.
After directing Style Wars Revisited, a documentary on graffiti art, Garfield realized he could make films about stuff he actually liked. Like beatboxing. His feature film,  Breath Control : History of the Human Beatbox, chronicles the history of the art form through the eyes of the masters, including Doug E. Fresh, Biz Markie and Rahzel. Garfield also introduces some fresh talent, showing that beatboxing is still thriving on the city streets.
Anyone can make beats. It is a universal language that crosses cultural divides and neighborhood borders. Joey Garfield's love of beatboxing began in the halls of Evanston Township High School in the '80s, when the hip hop wave came crashing across the country. Making beats, break dancing and graffiti art were THE things to do, and anyone could do them—you didn't need tools, gear or instruments. You just needed yourself and your creativity.
"I love stuff that feels real," Garfield says. And he transfers that love along with the energy of the artists themselves into the film and onto the audience. Watching the beatboxers in Breath Control literally makes your jaw drop. How can they be creating the sounds of an entire drum set AND a bass line all at the same time using only their voice? There must be a catch.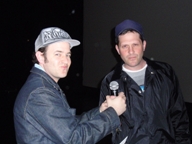 Yuri Lane and Joey Garfield fight for their right ... to the mic
At a recent screening, local human beatboxer Yuri Lane was on hand to prove that these guys don't have pockets full of tiny drums. He demonstrated how beatboxing can fill an auditorium and wowed the crowd with his unique blend of harmonica and beatbox. The energy was contagious and while everyone was cheering, a three-year-old in the audience got inspired and started trilling her lips together.
I was inspired too, but not to start making beats. As an artist, I was curious what advice Garfield had for others trying to make a career out of what they love to do. His response was quick: Know business; know what you're good at and do that. Following his own advice has paid off. He has been recognized with several awards—most recently Fuel TV's Emerging Filmmaker award—for doing what he does best and knowing what he loves to do.
Garfield is now documenting his love of other art forms onto film. One of the original Barnstormers , he is currently working on a documentary about how a group of urban artists ended up painting old tobacco farms in rural North Carolina. He also brought performance artist Bill Shannon's unique dance with crutches to the screen in the music video for RJD2's "Work It Out."
In his own way, Garfield is continuing the Jewish tradition of storytelling. He credits his Jewishness with giving him an outside view on life and says that perspective has helped him see situations objectively and in constructive and creative ways—a skill central to the work of a director.
Today he needs a little more gear to document stories on film than he needed in the old days breakdancing and making beats. But he is still working with universal themes of art, music and passion for life. His interests and directing style fall somewhere between the pretty and the gritty of life. "If it's pretty-gritty or gritty-pretty, I can do that," he says.
Check out Garfield's site for current clips and future projects.