Permanent link
All Posts
01/19/2010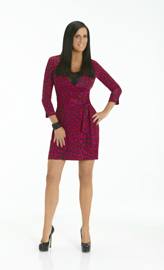 Have you been missing that certain special someone over the last few months? No, not your soul mate. I'm talking about Patti Stanger, the bold Los Angeles Jewish matchmaker who stars in her own reality show called "The Millionaire Matchmaker."
After a long hiatus, the wait is over for the show—and maybe for your soul mate too.
The third season of "The Millionaire Matchmaker" recently premiered on Bravo. If you haven't seen the show, chances are you aren't a 20- or 30-something woman. On each episode, Stanger sets up two clients, millionaires or sometimes a millionairess, with potential matches. She advises her clients and their possible matches before they meet, which usually includes makeover suggestions.
Sometimes she even sends over a therapist. For instance, Stanger sets up many "Peter Pan" type men, as she calls them, who are interested in women, often Hollywood models or actresses, 20 years their junior. That search for the unobtainable, she says, is keeping them single.
For singles without the benefit of Stanger's personalized matchmaking services, she has also recently written a book entitled "Become Your Own Matchmaker: 8 Easy Steps for Attracting Your Perfect Mate" (Atria) with Lisa Johnson Mandell. In the relationship guide, Stanger offers candid advice to teach single women to empower themselves and clear the path for your perfect match. She says that those who follow her formula will find themselves in a committed, monogamous relationship with Mr. Right in less than a year.
Stanger comes from a long family history of matchmaking. Both her grandmother and mother used to fix up couples through their local synagogue. Following in their matchmaking footsteps, Stanger matched up her first couple at a seventh grade dance in her hometown of Short Hills, New Jersey, and has been pairing people off ever since.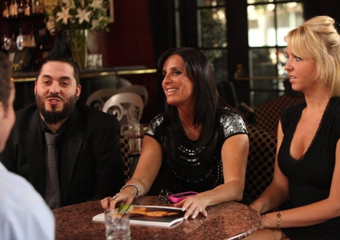 Patti schmoozes with her staff.
The only person Stanger couldn't seem to match up was herself. Part of her motivation for entering the business was that she "wanted to find out what I was doing wrong" after umpteen bad dates and failed relationships with Mr. Wrongs. But she finally met her match six years ago after one of the matchmakers on her staff introduced her to an eligible bachelor. Last year, he and Stanger got engaged.
Recently, Oy!'s Cindy Sher interviewed "The Millionaire Matchmaker" over the phone about what to expect on the new season of the show, some dating tips, and how Stanger finally found her own beshert.
Oy!Chicago: Who was the first couple you ever introduced?
Patti Stanger: In the seventh grade, I made my first match at Christ Church Dance. All the Jewish girls went to Christ Church Dance in Short Hills, New Jersey, to find their boyfriends and my best friend met her boyfriend that way because I introduced them. It was because the boys weren't talking to the girls. And then, after that, I always ended up doing it for everybody else, introducing people.
You are a third generation matchmaker. Both your mother and grandmother were also matchmakers. Why did they become matchmakers?
They did it for the temple because my mom was the first divorcè in New Jersey in her community and she was embarrassed so my grandmother got her married again. When divorce became commonplace, my grandmother was the hookup. They didn't do it for money, they just did it for love.
Why did you start fixing up millionaires?
I worked for Great Expectations (a dating service) for eight years as the director of marketing. I specialized in difficult clients and they were the rich ones. So when I came to LA during the Clinton administration, the whole millionaire thing was happening. I was doing this really to get out of credit card debt, but I also had a regular job. And then it just took off and had a mind of its own. I never realized how many millionaires there were in LA and Silicon Valley until I opened my business.
They say matching people up is one of the biggest mitzvahs. Doesn't setting people up make you feel happy?
It's a lot of work. If I could take the time to enjoy it, I would. It's not what you see on camera. It's very time consuming. We have them for a year to 14 months in our service. They can be quite temperamental. At the end of the day, I deserve all the riches in heaven.
What can we expect from the new season?
The new season has a lot more millionairesses, a lot more gay dating. There's green dating, people who own green (environmentally-conscious) businesses. There's an engagement on this season, Slade and Gretchen come on from "The Real Housewives of Orange County"—I actually help fix them up, Shauna comes on from last season and so does Zagros. It's going to be very different. There are a lot of matches this season and there are a lot of tips. We realize that the viewer loves tips.
So can you give us some dating tips?
We're giving away sex without monogamy. That's the number one problem. It [stems from] the sixties and burning our bras, but then you want him to open the car door. You're giving him mixed messages—you're making money and picking up the check and then you want him to marry you. Why would he buy the house in this economy if the rent is free? He's buying something that's depreciated.
And if he falls away, he's not your guy. He's passive-aggressive and wants the woman to chase him or he met somebody else. You know who is the marrying kind from the moment you meet him, the one asking the right questions and showing up every week consistently… We know the good guys from the bad guys. We just fall in love with bad guys.
What is your advice to Jewish singles looking for the one?
I'm not a fan of marrying a girl and converting her, I'm going to tell you right now. Unless she really wants to embrace Judaism, you're just using that as a weapon to get your bar mitzvah and your bris. Unless the person loves the whole Jewish experience of keeping Shabbos or keeping kosher or going to temple on High Holy Days, why force it down someone's throat because she won't allow the Christmas tree in.
…Girls are waiting for Peter Pans, so my philosophy is that if Peter Pan does not turn into your Jewish husband or doesn't show up, would it be so awful if you married a spiritual person who is not Jewish?
Can you give us some dos and don'ts for the first date?
Have a two-drink maximum no matter what you're drinking and don't mix alcohol. Show up on time. Be responsible. Always bring $100 cash stash in your wallet. If it's a blind date or an online date, you always meet them out. He should not be coming to your house. Next, don't talk about the exes, religion, or politics and stay on neutral subjects. Don't ask if he wants to get married and don't ask him how much money he has in the bank and don't let him ask you that either. Change the subject.
How do you feel about internet dating, sites like JDate?
I'm in business with JDate. I have a website called P.S. XOXO (Sparks Network owns P.S. XOXO and also owns JDate), which is for everybody, not just for Jews. But I think JDate is great. It teaches you to meet people in your own neighborhood and it teaches you to meet people that you would never normally meet. But you can't put all your eggs into one basket. You still have to get out in public and meet people on the fly and go to parties and events and sign up for charity work and do your hobbies and interests because you can't put everything all online.
Do you think 20 and 30-somethings aren't as good at meeting our matches as our parents' generation?
You have higher expectations. And when you have higher expectations because you're making money too, you wait longer for the right one. In my generation, they got married out of necessity and didn't expect the violins and bells and whistles as much.
Mazel tov on your engagement. How did you meet?
One of my matchmakers on staff fixed me up after I had a bad break up. I was really in a bad place and I couldn't meet a nice guy. She said, 'I know this guy that's really nice, he's not a millionaire but he's super nice. How about going out with him?' I met him and he was cute and all, but I didn't think he was the guy... Then all my friends wanted to date him because he was eligible and handsome and I was like, 'No, he's mine. Back off.' It took me a while to figure out that I liked him.
Watch the new season of "The Millionaire Matchmaker" on Bravo at 9 p.m. on Tuesdays.