Permanent link
All Posts
05/06/2008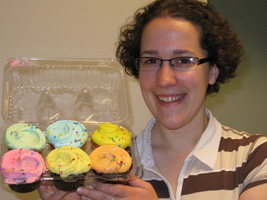 Oy!'s own Sarah Follmer gets the best assignment ever!
Cindy Levine once was a social worker involved in job placement programs and recruiting—she never expected to use those skills to land herself a new job. Growing up on the east coast, Cindy always dreamed of having a shop. And when she saw old-fashioned bakeries popping up in other cities, but not in Chicago, she knew it was time to trade in her social worker's hat for a baker's apron. Six years later, Sweet Mandy B's—named for her children, Mandy and Brian—is a city-wide favorite, and popular with the celebrity set. Barbra Streisand gave Sweet Mandy B's cupcakes a shout-out in front of a packed Allstate Arena during a recent tour.
So whether Funny Girl is your favorite movie, you're a closeted country music fan, or just have a sweet tooth, Cindy Levine is a Jew you should know!
1. What did you want to be when you grew up?
I actually wanted to be a psychologist, and I have a master's in social work. Definitely something in social work or counseling.
2. What do you love about what you do today?
The environment. I'm happy selling happy food that makes people walk out with smiles on their faces. I particularly love the kids and their reactions. They just light up. I also love the people I work with. I have wonderful employees and feel fortunate to spend time with them.
3. What are you reading?
I'm always reading cookbooks; that's my bedtime reading, in a sense. I'm reading the  Girls of Riyadh  right now. A friend recommended it, and I'm enjoying it. But I'm definitely always reading cookbooks. I love to read about food.
4. What's your favorite place to eat in Chicago?
My favorite place… oh boy. I'm partial to little neighborhood Italian places. I've been into Riccardo Trattoria recently.
5. If money and logistical reality played no part, what would you invent?
A way not to gain weight!
6. Would you rather have the ability to fly or the ability to be invisible?
Invisible. I'm very curious.
7. If I scrolled through your iPod, what guilty pleasure song would I find?
I get a little embarrassed about some of my country music. Being a city girl, a lot of times people don't understand my interest in it. They turn it off here at the bakery real quick.
8. What's your favorite Jewish thing to do in Chicago—in other words, how do you Jew?
I've recently started lighting candles for Shabbat and having challah. I've enjoyed reintroducing myself to that.