Permanent link
All Posts
You may be the one to save her life 
12/01/2009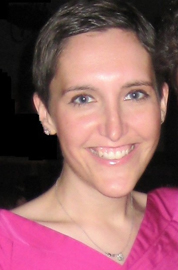 My sister desperately needs your help.  Please read her story  and consider registering by attending one of the upcoming drives (listed at the end of this story) or going to http://join.marrow.org/4katie.
My sister, Katie, is 26 years old and has been through more in the past year and a half than anyone should have to endure in a lifetime.  In spring of 2008, one week after her 25th birthday, she was diagnosed with Hodgkin's Lymphoma.  Our lives were turned upside down.  Unresponsive to chemotherapy, she and my mother, Nancy Meacham, moved to Houston, TX in order for Katie to receive treatment at M.D. Anderson Cancer Center.  She underwent an Autologous Stem Cell Transplant, which put her in remission.  Upon returning to New York, she became heavily involved in the Leukemia and Lymphoma Society.  She has become a friend and resource to countless others battling cancer.
Just after celebrating a year cancer-free, Katie received the devastating news this past September that she has relapsed.  My heart broke.  Yet, she met this news with the same courage, determination and hope that she held throughout her initial diagnosis and treatment.  I wished, as I have many times, that I could make this illness just disappear.  Her strength of spirit inspires me everyday.
Doctors have said her best chance at long term recovery and survival is for her to undergo an Allogeneic Stem Cell Transplant, meaning now she needs blood stem cells from a matching donor since her own blood stem cells didn't keep the cancer away.  I am begging for your help.  You may be the one to save my sister, or one of the other 6,000 people searching for a life-saving match each day.
Right now, of the 14 million people currently registered to donate, not a single one is a match for Katie.  This is due in part to her unique genetic make-up which includes the Jewish A69 gene (from her mother, of Middle Eastern European Jewish descent) as well as genes from her non-Jewish father who is of German and English ancestry.  Although it is more likely that her match will have a similar background, it is certainly not compulsory.
Registering involves answering a brief set of medical history questions, then swabbing your cheek with special Q-tips, which are provided to you by the testing service.  It is free and painless.  If a donor is called upon to donate, 70% of the time the procedure involves removing blood from one arm through a needle, collecting the stem cells from the blood, and returning the blood to the donor through a needle in the other arm.  It only takes the donor a short time to replenish their stem cell supply.
Additionally, we are trying to spread the word amongst families with babies on the way, that the blood from the umbilical cord of a newborn, which is typically discarded, can also be given to a public cord bank, where it could potentially reach a patient in need.  Learn more about cord blood donation.
Both of these procedures require so little of the donor, and mean absolutely everything to the recipient.  We are desperate to find a match for our Katie, and hope that you will consider registering to become a donor by attending one of the donor drives or registering online.  If you aren't a match for my sister, you could be a match for one of the thousands of others in need, who are holding out hope that the next new donor will be the one who saves their life.
Over the next couple weeks, donor drives are being held throughout Chicago in which the entire registry process can be completed on-site.  Details are below.  It takes six weeks to get in the database and sadly cancer does not wait for paperwork to be filed, so please do it now.
UPCOMING DONOR DRIVES:
Tuesday, December 1, 2009 8:00pm-9:00pm
Chicago, IL
Birthright Participant Registration @ JUF
30 S. Wells St., 6th floor
Chicago, IL  60606
(312) 673-2350
CONTACT: ErinJones@juf.org
Wednesday, December 2, 2009 12:00pm-4:00pm
Chicago, IL
Loyola University Hillel
Mundelein Center-Room 821
1020 W. Sheridan Road
Chicago, IL  60660
(773) 508-2193
CONTACT: ErinJones@juf.org
Wednesday, December 2, 2009 4:00pm-7:00pm
Northbrook, IL
Temple Beth-El
3610 Dundee Road
Northbrook, IL 60062
(847) 205-9982
CONTACT: ErinJones@juf.org
Thursday, December 3, 11:00am-2:30pm
Chicago, IL
JUF/Jewish Federation of Metropolitan Chicago (EMPLOYEES ONLY)
30 S. Wells St., Rooms 6117-6118
Chicago, IL  60606
(312) 673-2350
CONTACT: ErinJones@juf.org
Friday, December 4, 2009 10:00am-3:00pm
Chicago, IL
UIC Hillel
Levine Hillel Center
924 S. Morgan St.
Chicago, IL  60607
(312) 357-6922
CONTACT: ErinJones@juf.org 
Saturday, December 5, 2009 10:00am-12:00pm
Elmhurst, IL
Leukemia and Lymphoma Society Kickoff Event
York Community H.S.
355 W St Charles Rd
Elmhurst, IL 60126
CONTACT: Danielle Vickers (LifeSource): dvickers@itxm.org
Sunday, December 6, 2009 8:30am-1:30pm
Chicago, IL
Emanuel Congregation
5959 N Sheridan Rd
Chicago, IL 60660-3643
(773) 561-5173
CONTACT: ErinJones@juf.org
Sunday, December 6, 2009 11:00am-1:00pm
Chicago, IL
Anshe Emet Synagogue (during Hannukah party)
3751 N. Broadway
Chicago, IL 60613-4104
(773) 281-1423
CONTACT: ErinJones@juf.org
Wednesday, December 9, 2009 10:00am-5:00pm
Chicago, IL
Spertus Institute
610 S Michigan Ave
Chicago, IL 60605-1901
(312) 322-1700
Lobby and 2nd level
CONTACT: ErinJones@juf.org