Permanent link
All Posts
10/16/2009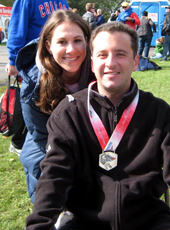 Jordan Karlik was one of the 45,000 people who participated in the cold Chicago marathon this past Sunday.  A newbie marathoner Karlik didn't just want to run, but to also raise money for a good cause— the Jewish United Fund.
"I wanted to raise money for some charity, said Karlik.  "And being a Jew is a very important part of my life so there was no other option in my opinion.  Coupled with that, I knew that fundraising [at JUF] is down this year and other events have left Jews and our agencies supporting Jews in financial trouble [so I knew they needed extra support.]
A native New Yorker, Karlik has been living in Chicago the past few years.  Always supportive of Jewish organizations, he grew up attending his local JCC and giving to UJA (New York Federation.)  Karlik became involved in Federation when he joined a 'next generation business owner' group that meets monthly.  But it wasn't until the marathon that he became passionate about the cause.
"Like I said in my email to my friends and family, JUF needs the money now more than ever so they can help so many Jews in need in Chicago and around the world."
In the end, Karlik raised more than $2,600 for JUF from 31 different contributors.  He also completed his "other" goal finishing the race in under four hours!  He said the best part of participating in the marathon was running for a good cause and "crossing the finish line of course!"