Permanent link
All Posts
Deerfield's Ethan Barhydt fights against the genocide in Darfur
09/22/2009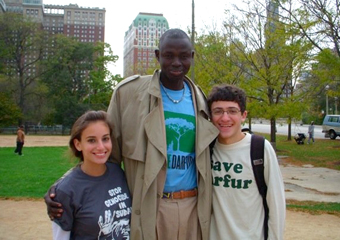 Barhydt (right) with his cousin, Allie Frankel, and Peter Bul, a Lost Boy of Sudan at a Darfur walk in October of 2008.
This summer, JVibe, the magazine for Jewish teens, gave out its first-ever "18 under 18" awards honoring extraordinary teens, and two of those special teens hail from the Chicago area—not too shabby! Oy! caught up with one of the local award-winners, 18-year-old Ethan Barhydt, recognized for his work as an advocate for the people of Darfur, before he begins a whirlwind year of internships and travel to East Africa.
Though issues of genocide are his main concern, Barhydt, who just graduated from Deerfield High School this year, said he finds time for several other activities and hobbies. In high school, he was part of student congress, debate club and the executive producer of the school's television show. He loves music, and plays any instrument he can get his hands on, including guitar, banjo and piano. He is also an environmental activist.
Barhydt said his Jewish upbringing as part of a Humanistic congregation has a lot to do with his passion for issues of genocide. "The biggest effect that my Jewish heritage has had on me was when I was in this Jewish class on the Holocaust with Dick Strauss (at my temple). Throughout the class, he emphasized the concepts of upstanders and bystanders, that if it hadn't been for the millions of bystanders in Germany than Hitler wouldn't have been able to kill as many as he did. And at the same time he emphasized the heroic upstanders who did take action and were able to save a lot of lives. He told us repeatedly that if we just took one thing out of the class, that should be it—that we need to be upstanders for eternity."
On the final day of class, Barhydt said they were handed an unexpected final exam, but instead of a test, the paper simply had the following message: 'Your final exam is how you conduct the rest of your lives. Can it happen again? The answer is up to you and to your choices. Will you choose to get involved or will you be a bystander… That is your challenge. The answer is up to you.'
Barhydt still has that final exam hanging in his bedroom as a reminder. "I think the most powerful part of that is … 'the answer is up to you.' It's both empowering and daunting to note that issues of genocide and crimes against humanity are a responsibility that I think all of us bear," he said. "From that point and through that experience, I committed myself to being an upstander, primarily by fighting against the genocide in Darfur, and I plan for the rest of my life to fight against crimes against humanity wherever they take place."
He stuck to his word, becoming involved in Amnesty International and Facing History and Ourselves in high school, and it was there that he first began to focus his attention on Darfur. During his sophomore year, he facilitated a collaboration among schools to work together, which would ultimately lead to the founding of Youth United for Darfur. Within a few weeks, he had 10 schools on a conference call organizing the first Youth United for Darfur conference. After that first event in April of 2008, there was a lot of momentum and enthusiasm about continuing, so in October, the group organized a benefit concert which raised about $3,000 for the Sudanese community center in Chicago.
"At that point we really established Youth United for Darfur and decided we wanted to do something even bigger." So, in February of 2009, they began planning the Youth United for Darfur rally. On April 19, over 500 people representing more than 50 student groups in Chicago, along with representatives from Congress, and the Lost Boys of Sudan, gathered at Federal Plaza, to call on President Obama to act now to promote peace in Darfur. At the event, Youth United for Darfur raised over $17,000 to support the Enough Project's Darfur Dream Team Sister School program and the Sudanese Community Center in Chicago.
"That was a huge success to garner so much support from the Chicago community to be able to financially support a school almost half of a (Sudanese) school and to be able to show our support for the Sudanese community in Chicago." Today, Youth United for Darfur is comprised of 40 student groups in the Chicago, and though Barhydt won't be returning to Chicago for several years, he hopes the group will continue to be an effective force against genocide. "I think what's really important is that we continue to increase the number of upstanders in the world and create a consistent constituency against genocide so that even when the genocide in Darfur ends, as (other) conflicts continue to arise that we have people already in place ready to take action," Barhydt said.
In the meantime, Barhydt will soon be headed to Washington D.C. to intern for an organization that works in the political system to fight against genocide and east African conflict where he hopes to gain experience and learn more about political advocacy before he hopefully travels to east Africa himself. Next year, Barhydt will attend Macalester College in Minnesota where he plans to study international relations with a focus, not surprisingly, on east Africa.
So how does it feel to be one of JVibe's 18 under 18 teens?
"It's wonderful to be recognized," Barhydt said. "I'm very appreciative of JVibe doing this because I think it does two very important things: hopefully it spreads the message about genocide and empowers students to get involved in issues that they're passionate about. I definitely think that they've inspired a lot of people by featuring 18 youth who have gotten involved, and I feel lucky to be a part of that."