Permanent link
All Posts
Jewish burlesque troupe comes to Chicago
09/01/2009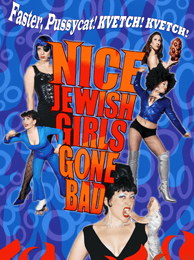 Working as a performance artist, it didn't take Susannah Perlman long to discover she wasn't the only nice Jewish girl trying to make a living by doing things on stage (telling naughty jokes, wearing not all the much clothing) of which her mother did not approve.
"I do comedy and music and I have hosted burlesque," she recalled. "And in the course of these things, I kept on running into amazing women who happened to be Jewish, and I thought, what if I put it all together?"
The result: Nice Jewish Girls Gone Bad, a burlesque-y variety show that pokes fun at all things Semitic.
Nice Jewish Girls Gone Bad will be in Chicago Sept. 4 and 5 performing at the Lakeshore Theatre. The show runs the gamut of irreverent religion-themed acts, from classic Jewish songs rewritten as disco and pop tunes to a Chassidic strip tease. Audiences can also expect a "Hava Nagila" go-go number and a piece in which hamantaschen is presented as a fertility symbol.
"It's really a fun show, very colorful," Perlman said.
Nice Jewish Girls Gone Bad is currently in its sixth year and has been performed all over the country at clubs, universities and, interestingly enough, even synagogues. Perlman said that although the show resonates most strongly with Jewish crowds, audiences of all stripes have proved receptive to the girls' antics.
"There's something for everyone," Perlman said. "Women, gay and straight, like it because it has a lot of feminist undertones. Gay men like it because it's campy and kitschy. And straight men like it because it's dirty."
Over the years, Nice Jewish Girls Gone Bad has acquired a rotating ensemble of between 30-40 different musicians, comedians, dancers and vaudevillians, with five or six women performing at any given show. Perlman said she often tries to bring in local acts as well from each region the show visits. In Seattle, she has been in contact with Jewish burlesque artists Miss Indigo Blue and the Naked Folk Singer.
Nice Jewish Girls Gone Bad bills its performers as "gals who learned to smoke at Hebrew School, got drunk at their Bat Mitzvahs and would rather have more schtuppa than the chuppah."
Perlman herself grew up in a Jewish household in Pittsburgh, "going to Jewish summer camp and trips to Israel."
As unkosher as scantily clad-women crooning about gefilte fish may seem to some, the fundamentals of the show — Jewish music and Jewish humor — likely resonate with almost anyone who spent their youth in Hebrew school class rooms and on B'nai Brith overnights.
"We say the show is for anyone ages 18 to 80," Perlman said. "A lot of East Coast old timers really like it because it reminds them of the old-timey comedy shows."
Six years in, Perlman added that even her mother is starting to warm up to the idea.
"We've been getting good reviews lately and her friends forward them to her," she said. "Last time I went to visit, when she introduced me around at her synagogue, that was the first thing she'd say about me. I think it's the first time she's really been telling people about the show."
"Nice Jewish Girls Gone Bad" will perform at 7:30 p.m. Sept. 4 and at 7:30 and 10:30 p.m. Sept. 5 at Chicago's Lakeshore Theatre (3175 N. Broadway). For more information, visit http://www.nicejewishgirlsgonebad.com.
Story originally posted on  www.jew-ish.com .