Permanent link
All Posts
04/22/2008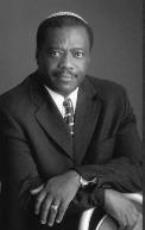 At Rabbi Capers Funnye's services, gospel is kosher
"I am a Jew, and that breaks through all color and ethnic barriers," Rabbi Capers C. Funnye, Jr. recently told the New York Times.  The rabbi grew up attending an African Methodist Church and first discovered Judaism as a teenager when he began to feel disconnected with his Methodist faith. Today, he leads the more than 200 members of Beth Shalom B'nai Zaken Ethiopian Hebrew Congregation and is working to encourage Chicago's Jewish community to accept his predominantly black Southside congregation as one of its own. 
So, whether you are examining your own faith, want to join a congregation where davening might just break into gospel song or are a fellow jazz lover, Rabbi Capers Funnye is a Jew you should know.
1. What did you want to be when you grew up?
At the age of seventeen I dreamed of being a lawyer, like Perry Mason.
2. What do you love about what you do today?
I love meeting people and assisting them in their desire to become Jewish and teaching Torah.
3.  What are you reading?
I am reading The Prophets by Rabbi Abraham J. Heschel.
4. What is your favorite place to eat in Chicago?
I rarely eat out, so I don't really have a favorite place to eat out. I am a homebody.
5. If money and logistical reality played no part, what would you invent?
I would invent a cure for cancer. I lost my father, mother and a brother to this disease.
6. Would you rather have the ability to fly or ability to be invisible?
I think I would rather be invisible. I believe it would be the best way to find out what people are really thinking.
7. If I scrolled through your iPod, what guilty pleasure song would I find?
I am sorry, but I do not own an iPod. But, I do listen to Jazz music.
8. What's your favorite Jewish thing to do in Chicago—in other words, how do you Jew?
My favorite Jewish thing to do is daven and spend my time studying Jewish literature.