Permanent link
All Posts
07/07/2015
Now is the best time to be deaf -- at least according to Benjamin Lachman, a driving force behind the "Cued Speech" movement and a 2014 honoree of Oy!Chicago and YLD's Double Chai in the Chi, 36 Under 36 list.
"An individual with a perceived disability has every ability to achieve or exceed peer-level expectations given full and unequivocal access to the kinds of educational, vocational, or sociological opportunities that are afforded to society," Lachman said.
As a deaf individual since birth, Lachman has always sought out the best possible avenues in order to hear and understand speech more accurately. His journey toward hearing first started with American Sign Language, which was difficult for his family to learn when he was so young. Then he discovered Cued Speech, a method of lip-reading that uses eight hand shapes to represent consonants. Words are created by speaking and placing hand shapes around the mouth. The method can be applied to many languages, common and uncommon. Lachman and his family were the first family in Illinois to adopt this methodology.
In order to spread knowledge of Cued Speech and help others learn the technique, Lachman started Cue Everything, which collects and creates videos about Cued Speech and allows others to learn more about the program online. Their crowning achievement is a Cued Speech rap video featuring the rapper Twista to his song "Go."
If you look at the video's comments section, you'll notice some resistance to Cued Speech as an alternative to ASL.
"We certainly face challenges in explaining the concept of showing phonological information of conventionally spoken language in a manner that someone with no auditory feedback can still access," Lachman said.
There are elements of speech that ASL does not address. Many deaf individuals who only use basic lip-reading and ASL cannot comprehend phonemes of spoken language, the tiny units of sound in a language that are still capable of conveying a distinct meaning. Cued Speech addresses this nuance in speech comprehension by using combinations of hand shapes (or "cues") to help deaf individuals understand these phonemes despite not being able to hear them.
"I can see exactly what you say, absolutely verbatim, how you say it in the same speed that you would if you were just speaking," Lachman said. The result is that rather than having deaf individuals and their families both learn a new language, Cued Speech gives deaf individuals access to the language being spoken around them.
Helping widen the scope of Cued Speech is just one way Lachman is helping individuals with disabilities better access the world around them. Since being named 36 Under 36, Lachman has been more involved in ADA25Chicago, an initiative honoring the 25th Anniversary of the Americans with Disabilities Act.
This initiative will see all kinds of participating organizations creating and hosting educational, cultural, arts, sports and recreational events that will increase public awareness and improve the quality of life for people with disabilities.
JJsList.com, for which Lachman is the business and community engagement coordinator, is one of the partner organizations involved in the ADA25Chicago effort. The site is a platform for businesses and consumers to foster better communication and to understand each other's needs. Businesses use this platform to discover consumers' opinions and determine which products are successful. The site also allows businesses to become more aware of disabilities and to better communicate with individuals who have them, ultimately creating job opportunities.
"If you've had the opportunity to communicate with various demographics, you'll be far less intimidated by hiring these individuals," Lachman said.
The nature of the workplace puts those with disabilities at a disadvantage and it is difficult to connect employer's needs and the requests of prospective employees. JJsList.com caters to individuals with a range of disabilities and anyone can receive assistance.  
"A big part of what we do as a social enterprise is provide life skills and vocational coaching to assist people in communicating their needs to potential services providers or employers," Lachman said.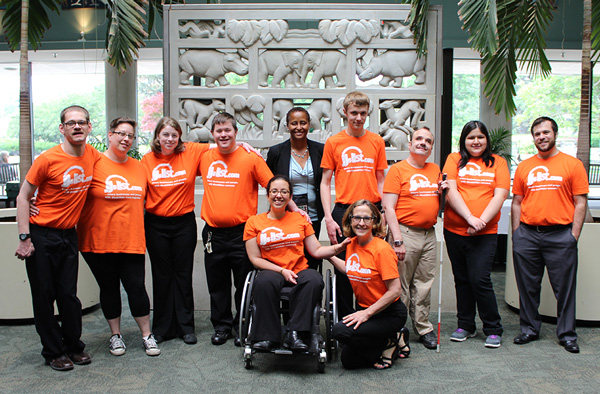 Benjamin Lachman (back right) with the JJsList.com training team at the Brookfield Zoo
In order to further the ADA25Chicago effort, JJsList has been hosting Disability Awareness Training workshops, which include role-playing activities and the sharing of personal stories.
"Through this public speaking experience, the Disability Awareness Players themselves build communications and networking skills that they need for employment and workplace success," Lachman said.
The workshops have reached over 3,000 business employees to date, and due to a grant from the Reva and David Logan Foundation, they will be able to expand their effort and dedication to the ADA. Chicago Public Schools and cultural institutions will be part of the mix, and teachers, students, and volunteers will gain a greater knowledge of disabilities and be comfortable interacting with such individuals.
Thanks to the ADA, Lachman says, accessibility and diversity are encouraged, leaving society in a better position as a whole.
"More individuals with disabilities are able to actually believe in themselves and what they are capable of accomplishing," he said.