Permanent link
All Posts
04/07/2015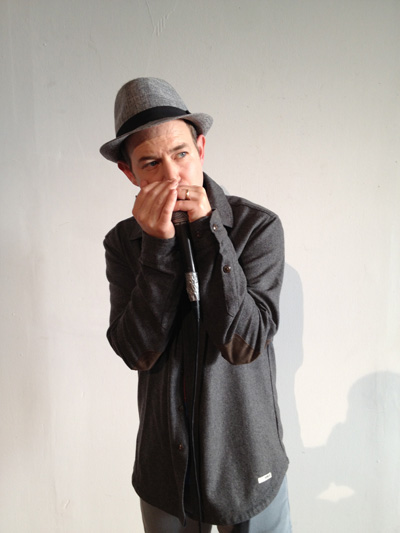 I first saw Yuri Lane doing a beatbox workshop at JCC Apachi summer camp. I was immediately taken with his combination of beatbox and harmonica. I had never seen anything like it. I got to know him and started following his work and have since brought Yuri in to teach beatbox/acting/movement workshops with my classes at Columbia College Chicago.
A couple weeks ago, I chatted with Yuri on my new podcast, Under the Lights (listen to the episode here), which highlights the work of Chicago artists — actors, directors, writers, musicians, improvisers, performance artists, casting directors, and others. You can subscribe to the podcast on iTunes for free or listen to/download individual episodes at underthelights.libsyn.com. You can also connect with us on Facebook at www.facebook.com/utlpodcast and on Twitter: @UTLPodcast.
Yuri has long made Chicago his home but has toured the country with his hip-hop show "From Tel Aviv to Ramallah: A beatbox journey." He is also a YouTube sensation, with one of his videos eclipsing 10 million views. For more information on this Jew You Should Know, along with music and videos, visit yurilane.com
1. What was your first exposure to live performance and what impact did it have on you?
My first live performance was seeing my Mom playing violin for the San Jose symphony.
2. What inspired you to develop "From Tel Aviv to Ramallah?"
The inspiration behind "From Tel Aviv to Ramallah" is based on a trip I took with my wife Rachel Havrelock (playwright, director of show) in '98. We travelled from Tel Aviv to Jerusalem to Ramallah during the course of a week. Each day I would rewind each experience with a beatbox. 
3. Which performers do you look up to?
I look up to performers who have inspired and taught me about mirroring the world with art. I had the chance to see and perform with Robin Williams, the master of improv. Peter Sellers always made me laugh and seeing him in Being There made me even more of a fan. Lily Tomlin is another one of my favorites. Crazy story is my father-in-law was Lily's boyfriend in college. I met her and she is a humble amazing person and an incredible live performer!
4. What collaborations have made the biggest impact on you?
The biggest collaboration I've done is with my wife Rachel and partner Sharif Ezzat on the show "From Tel Aviv to Ramallah," a beatbox journey. This collaboration has taken this show all over the U.S. and beyond bringing humanity and the hip-hop theater perspective to the Middle East conflict.
5. How did you discover and begin to use beatbox as a pathway to storytelling?
I was rehearsing a play in San Francisco and had a small part. It left me time to develop my solo show. I had a moment where I started beatboxing, dancing and doing mime at the same time and said to myself "this is what I'm going to do!" Combine all the techniques to create the genre of beatbox theater!
6. What role does hip-hip play in our society today?
I teach hip-hop and theater to kids of all ages. Hip-hop can be a wonderful reflection and collage of art and culture. I'm all about teaching kids about the roots of hip-hop. Afrika bambatta said the true message of hip-hop is PEACE, LOVE, UNITY and having fun.
7. How does Judaism inspire and inform your work as an artist?
The social justice part of Judaism is important to me. I feel the most connected to G-D when I'm on stage, but the Jewish rituals and holidays bring an awareness as a human being and citizen of this planet Earth. 
8. What goals do you have for yourself as an artist and/or teacher?
I want to continue to explore my solo beatbox work and practicing my art 'til the day I leave this earth! I want to start a beatbox and performance movement in Chicago for generations to come!