Permanent link
All Posts
Actor Max Quinlan returns home to star in two productions at the Marriot Theatre in Lincolnshire
03/31/2009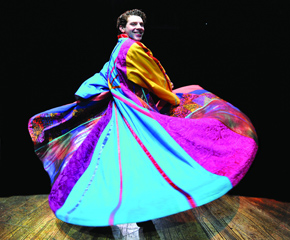 The Amazing Max Quinlan

I remember first hearing Max Quinlan's beautiful voice when he was just a little boy, singing in Buffalo Grove community theater productions. Growing up, both of our moms were active on the Village Arts Commission, so we often found ourselves on stage or backstage together. Max, who comes from a family of musical and artistic talent—his mother and sister both have amazing voices and his father was always helping out backstage—always exuded extraordinary talent on stage, even from a very young age. So I'm sure it comes as no surprise to anyone, especially me, that Max is now starring in two productions—"Joseph and the Amazing Technicolor Dreamcoat" and "High School Musical"—at the Marriot Theatre in Lincolnshire.

Max says he initially got into theater because of his parents—his mom studied voice in college. He did his first community theater show at age four and made his professional debut not too long after in the Chicago production of "Ragtime." He recently graduated from Cincinnati College-Conservatory of Music with a B.F.A. in Musical Theater. He made his New York debut Off-Broadway with the York Theatre Company in "Grind" and after several other roles, returned home to the Chicago suburbs and the Marriot Theatre, where he recently completed runs of "The Bowery Boys" and "All Shook Up" and is now starring as Joseph in "Joseph" and Troy in "High School Musical."

"It's great (to be at Marriot)," Max said. "It's such a wonderful place with a great reputation. It's kind of nice to be back home and be where all my friends and family can see me in the shows."

He is excited about "Joseph," a show that is great because everyone knows and loves the story.

"It's also a huge responsibility because people come in with huge expectations," he said.  "I try to bring something new to it while also respecting the tradition (of the original)."

Andrew Lloyd Webber and Tim Rice's "Joseph" is a "colorful" retelling of the biblical life of Joseph and his amazing abilities. The original production starred Donny Osmond as Joseph.

"To be doing something like 'Joseph' is great because it is a religious show and it has such a great message," Max said. "It's a story that is important to be told, especially to people of the Jewish faith."

For Max, Jewish identity is also tied to music. He says his first singing experience came from going to temple and he once thought he wanted to be a cantor.

"I realized how big of an impact music is on life in general," he said.

As Troy, the heartthrob originally played by Zac Efron in the movie "High School Musical" Max will surely grab the attention of teenage girls throughout the North Shore. The show, based on the wildly popular Disney Channel Original movie, follows Gabriella, a shy, brainy transfer student, and Troy, the hunky captain of the basketball team as they discover their secret passion for singing.

"High School Musical" is a lot of fun," Max said. "It's been such a huge influence on this young generation and gotten kids really excited about musicals."

For Max, excitement about musicals came without the help of a Disney movie. He realized at a young age that you can learn a lot about life through theater.

"Musicals are not just a spectacle of sorts, they have messages behind them and lessons to learn," he said, recalling that "Ragtime" his first professional show, taught him many lessons, including a history lesson that coincided with his seventh grade history class at the time.

"This was the first time I realized what theater was all about and what it could do for an audience," Max said.

His advice to other aspiring young actors is to keep studying and know there is so much to learn. "I think the best advice anyone can ever give you is to follow your passion."

After completing the runs of "Joseph" and "High School Musical" Max plans to follow his passion back to New York to revisit the theater scene there, hoping to make a home both out east and in Chicago.

Joseph and the Amazing Technicolor Dreamcoat runs through May 10. The performance schedule for all shows is Wednesdays at 1 p.m. and 8 p.m., Thursdays and Fridays at 8 p.m., Saturdays at 4:30 p.m. and 8 p.m. and Sundays at 1 p.m. and 5 p.m. Ticket prices are $45 excluding tax and handling fees and a $5 discount for students and seniors is valid for Wednesday matinees and Sunday performances. The performance schedule for "High School Musical" is Sundays, Tuesdays, Wednesdays, Thursdays and Fridays at 10 a.m. and Saturdays at 11 p.m. though some show times and dates may vary. Tickets for all shows are $12 To reserve tickets, call the Marriot Theatre Box Office at (847)634-0200 or visit  www.marriottheatre.com .