Permanent link
All Posts
02/24/2009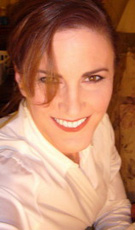 Let Traci make you feel pretty

Northbrook native Traci Fein spent her teen years modeling for local institutions like Marshall Fields and Carson's. At 19, an agency scooped her up and brought her to Paris. From there, she spent years traversing the globe. But Traci Fein is more than just a pretty face – when she returned back to the Chicago area, she started her own makeup agency, specializing in weddings and other special events.

Today, Traci continues to make Chicago's brides beautiful and also does editorial work for publications including Time Out Chicago, Today's Chicago Woman and Elite Modeling. So, if you need a spiffed up look for spring, love to travel or have a knack for helping family members find love on JDate, Traci Fein is a Jew You Should Know!

1. What is your favorite blog or website?
Right now I am hooked on Facebook. I love connecting with old and new friends. I'm pretty new but I have reconnected with a lot of people.

2. If time and money were limitless, where would you travel?
I would go everywhere! I would base myself in Chicago because I love it here. I would go back to Paris, London and Tahiti for sure. I might have small condos all spread out all over the world.

3. If a movie were made about your life, who would play you?
Uma Thurman. I'm a big fan of the Kill Bill series; I love her.

4. If you could have a meal with any two people, living or dead, famous or not, who would they be? Where would you eat or what would you serve?
There are so many intellectuals and poets and authors that I would love to talk to, but I'd want to just have a great, fun night. So I'd choose Mel Brooks because he's hilarious and Paul Newman because he is the most handsome man ever. They are both funny handsome and smart – it would be the best of all worlds. I would probably invite them to Chicago and go the traditional route and eat at Gibson's – it has a fun atmosphere and there's always great steak.

5. What's your idea of the perfect day?
Wake up, go out on the balcony and see Lake Tahoe, have a cup of coffee and have the men in my life – my father, son and brother – with me. We'd ski and lie in the sunshine and take in the beauty of Lake Tahoe.

6. What do you love about what you do?
I love that it's different all of the time and I love meeting new people. I like creating and working with my hands but the most rewarding thing is making somebody who might not feel as confident in her looks stand a little taller and feel confident and pretty. I can see the transformation and that makes me feel great.

7. What job would you have had if not the one you have now?
I'd be a journalist. I always wanted to be one as a little kid and I think it's an expression of art that evokes feeling and passion in other people and gets them to think.

8. What's your favorite Jewish thing to do in Chicago? In other words, how do you Jew?
The most recent Jewish thing that I loved was putting my dad on JDate – he'd been widowed for a couple of years and was lonely. He's not good with computers so I posed as him and got the ladies' numbers for him so he could call. He had coffees and lunches galore. He's found a sweetheart and they are together right now. He's alive again and not lonely!