Permanent link
All Posts
02/05/2013
Let's face it. You meet a guy or a girl at a bar. What do you really know about them? They like to drink. That's about it. But you meet a fellow counselor at a Jewish day camp and before they say hello, you know you've met a kindred spirit.
"You can assume if they're working at a day camp that they like kids, they're outgoing and athletic," says Jeff Silver, a former counselor at the JCC Chicago's "Z" Frank Apachi Day Camp. "Everyone has the same values. They like kids and they're family-oriented," says Adam Sax, another alumnus.
"It's a magical spot," says Terri Blenner, the camp's director. "Kids have a chance to be who they want to be while they enjoy their Jewish heritage. I don't think anyone can quite understand it who hasn't been there." 
All of which explains why romance is so likely to blossom at camp. Blenner, who has been with the JCC for over 35 years, says last summer a dozen counselors left the camp as couples. "We tried to make a list once of all the couples who met here and got married, but we gave up."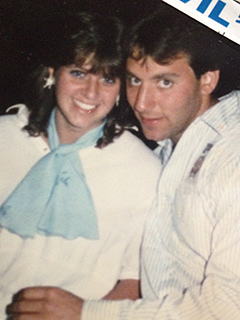 Debbie and Jeff Silver at a 1950s-style camp dance in 1986, shortly after they met.
When Debbie Schwartz first saw Jeff Silver, she thought he was "full of himself." He was an older man, 21, a senior at the University of Illinois, and a premed. Debbie was 18 and had just graduated from Niles West. "He gave a speech on first aid. I don't want to say he was arrogant, but he was very confidant. I thought, 'Who is this guy?'" 
This was in 1986 at Mayer Kaplan JCC Day Camp. Since Debbie was working with second grade girls and Jeff was working with second grade boys, they spent a lot of time together, teaching swimming, and cooking. "There was a lot of mingling," says Debbie. 
"There were a lot of parties that summer, a lot of couples pairing off," says Jeff. "That's what happens when [counselors work] together in an informal setting…they mingle and flirt with each other."
As the summer wore on, Debbie saw the way Jeff interacted with the campers. "The kids adored him. He got down to their level." 
After four weeks of hanging out, they went on their first date. They married 22 years ago, live in Northbrook, and have three kids, 16, 14, and 13, who have all attended Apachi Day Camp.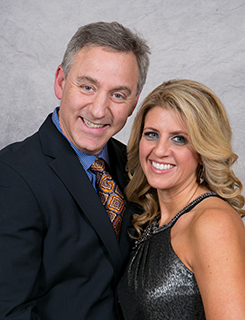 Debbie and Jeff at their son's bar mitzvah earlier this year. 
When the kids were little, Debbie hired Amanda Plotkin to babysit. In 2007, when she was a sophomore in college, Amanda worked at Apachi in the office. Adam Sax worked there, too. They met at the photocopier. "There was a spark," says Adam. 
Amanda and Adam, at Apachi Day Camp in 2007, the summer they met. 
"He was the unit head, in charge of the counselors and all the campers from four to six. I saw how he interacted with the staff and the supervisors. This guy he was a leader. People respected him, parents respected him. We saw each other every day, and I got to know him on a much different level than meeting someone at a bar," Amanda says. 
"When I was first hired as a counselor-in-training in 2002, the director at the time was joking around and said, 'You'll meet a lot of girls here. You might even meet your wife,'" Adam says. 
Terri Blenner got a call one day from Adam. He needed her help. He wanted to propose to Amanda at the Xerox machine where they'd met. "I called Amanda and told her I needed her to come in and help with scheduling," Terri recalls. "When she got there, I said, 'I just printed something, would you get it for me?' She lifted up the lid on the Xerox machine and there was a sign that read, 'Will you marry me?' Adam was waiting in the other room."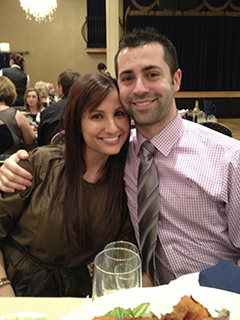 Amanda and Adam Sax today. 
"I had it all set up with roses and an engagement ring," Adam says. They've been married almost two years and live in Vernon Hills.
"We had one couple who got engaged on Apachi Hill," says Gayle Malvin, director of JCC day camps. "Now their kids are in day care at Mayer Kaplan JCC."
The Jewish Community Center of Chicago (JCC) is a partner in serving our community and receives support from the Jewish United Fund/Jewish Federation of Metropolitan Chicago.
Cheryl Lavin writes the "Tales From the Front" column which appears Monday, Tuesday and Thursday in the Chicago Sun-Times. Her website is askcheryl.net.