Permanent link
All Posts
12/10/2012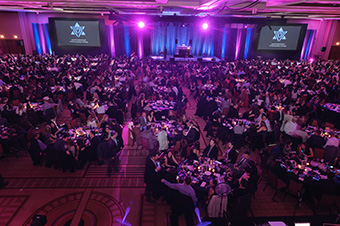 Photo credit: Jeff Ellis
For the fifth year in a row, Young Leadership Division's (YLD) Big Event was the place to be for young Jewish adults in Chicago this past Saturday night.
A whopping 2,400 young Jews came together to support the Chicago Jewish community and the Jewish United Fund, celebrate Chanukah together, and watch entertainment by standup comedian and Parks and Recreation star Aziz Ansari as well as young local Jewish singer, Edon Pinchot. YLD's Big Event, held at the Sheraton Chicago, kicked off YLD's 2013 Annual Campaign.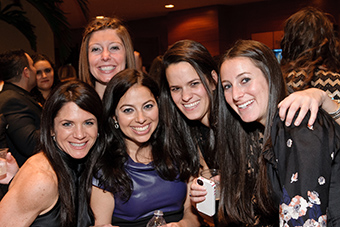 Photo credit: Bob Kusel
Big Event revelers rang in the first night of Chanukah together, entering the ballroom to the sounds of Adam Sandler's "Chanukah Song." Then the crowd lit up the room with the first candle on the menorah--and thousands of waving glow sticks too.
'Doing our generation's part'  
YLD's Big Event is JUF's premier fundraising event for the next generation of Jewish Chicagoans, and marks the first YLD event for many guests in attendance.
David Goldenberg, 2013 YLD Campaign Chair, addressed the crowd. He discussed the belief that all Jews are responsible for one another, exemplified in the important work of the Jewish United Fund of Metropolitan Chicago, which he said has touched everyone in the room directly or indirectly.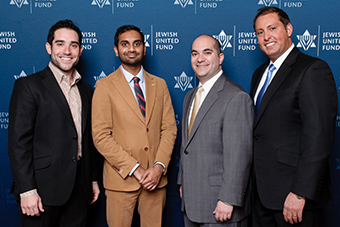 Photo credit: Bob Kusel
In addition to showcasing great comedy, YLD's Big Event offers the millennial generation something more, according to Goldenberg. "[We're here] to do our generation's part in building a strong Jewish community and take care of those in need in Chicago, in Israel, and around the world," he said.
He recalled the recent terrorist attacks directed at Tel Aviv, Jerusalem, Ashkelon, and cities throughout Southern Israel, and how overnight, JUF advanced $1 million to its partner agencies that operate in Israel.
"I am so proud to look out into a room of 2,400 people celebrating and supporting JUF's efforts," said Jimmy Sarnoff, YLD President. "The Big Event has become bigger than anything we ever could have imagined. It's clearly the 'can't miss' Jewish event of the year." For many in attendance, the Big Event also marked their first YLD event.
'YLD's Got Talent'
Next up was a performance by Pinchot, a freshman at Ida Crown Jewish Academy--who made headlines recently as one of the feel-good Chicago Jewish stories of 2012. Pinchot, who earned a spot last summer as a semi-finalist in the hit show America's Got Talent, brought a special performance home to Chicago to the delight of the crowd.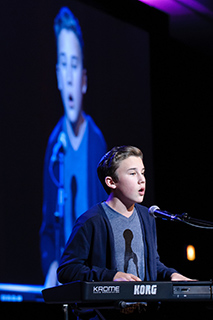 Photo credit: Bob Kusel
He sang three powerful songs, the David Guetta/Usher hit "Without You," Elton John's "Your Song," and a Chanukah song called "Miracle," written by past Big Event alum, Matisyahu.
'The funniest man under 30'
Then Ansari came to the stage. "I'm excited to be here with so many Jewish leaders. I don't know what happens when there are so many Jewish leaders in one room together: 'We're going this way.' 'No, we're going this way,'" said Ansari, moving in different directions across the stage.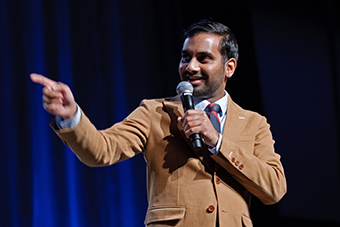 Comedian Aziz Ansari entertaining the crowd. Photo credit: Bob Kusel
The comedian, who Rolling Stone recently named "the funniest man under 30," was  born and raised in South Carolina to immigrants from southern India.
Ansari told the audience a bit about himself, including that he was a double major in business--and biology--during college. "First, I hit you with the business. You think it's all done. Then, I come back and I hit you with the biology," he said. "What was I going to do with this stupid double major? Sell organs on the black market very efficiently?" 
In addition to performing standup, the comedian co-stars in the NBC series Parks and Recreation, currently in its fourth season. On the big screen, Ansari has starred in films including 30 Minutes or Less, I Love You, Man, and Funny People.
Ansari, a 29-year-old bachelor, spent the bulk of his act reflecting on the varied life stages that 20 and 30-somethings experience, some married, some single. 
The comedian referred to peers who have met their spouses online. He asked one of his Jewish friends what key search words he used to find his wife, expecting his friend to say something super romantic. But, instead, his friend told Ansari he simply typed in the word "Jewish" and his zip code.
"What? That's all you were looking for? Just someone Jewish and close by so you didn't have to drive too far?" Ansari replied. "I found a Wendy's that way a few weeks ago. I typed in "Wendy's" and my zip code and then got some nuggets. He got a wife the exact same way." 
And once people get married, Ansari said, then it's all about the babies. He poked fun at Facebook for being a reservoir of baby pictures and baby milestone status updates by braggadocios new parents. He said a friend will boast, for instance, about "Baby Brian's first steps."
"I walk all the time," Ansari said. "I'm not impressed."
For a list of upcoming YLD events and to view pictures from the Big Event, visit www.yldchicago.org.
A special thank you to YLD's Big Event Presenting Sponsor Eleven City Diner; Supporting Sponsors AMS Staffing Solutions, LLC, Associated Agencies, Inc. and Chubb Group of Insurance Companies, Charles E. Dobrusin and Associates, and The Great Escape; and Event Sponsors Chicago Apartment Finders, Durable Packaging International, Hub 51, JFS Realty Capital, Paris Club, RJ Grunts, RPM ITALIAN, Sarnoff and Baccash, Steve's Deli, and Wicker Park Veterinary Clinic, and Media Sponsor Splash: A Chicago Sun-Times Publication; Thank you also to Mercadito Hospitality and Spin Spun All Natural Confections for their support of this event. Another special thank you to the 150 Table Hosts whose support of this event made it an enormous success.