Permanent link
All Posts
11/06/2012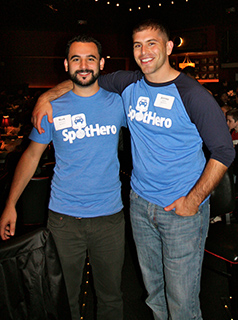 We all know parking in Chicago can be a drag…especially once the snow starts falling. Between street cleanings, parking permits and meter limits, finding a home for our cars is no easy feat. But have no fear, your parking heroes are here!
Chicago MOTs Mark Lawrence and Jeremy Smith make up two-thirds of the SpotHero team.
SpotHero, a rapidly growing startup founded by Smith, Lawrence, and Larry Kiss, was launched to remove the hassle for drivers finding a parking spot. SpotHero allows drivers to compare and reserve spots from the web and their iPhone and helps their parking partners fill their unused inventory by putting drivers in their spots.
Lawrence, the co-founder & CEO, has been an entrepreneur since 2nd grade. Through his career, he quickly realized his passion for innovation, both in technology and in everyday living. This drive ultimately led Mark to the Chicago parking industry, where he found an entire industry ripe for innovation. Prior to his professional experience, Mark graduated with BS in Finance from Bradley University.
Smith, SpotHero's co-founder & COO graduated from the University of Illinois in 2008. Out of school he worked at Motorola and he eventually ended up becoming roommates with Lawrence. During his short time in Chicago, he amassed $3,500 in parking tickets! That's when SpotHero was born. When he's not out being a SpotHero for Chicago residents, Jeremy loves catching sporting events with friends, checking out new places around the city, and frequenting local dive restaurants.
So whether you love Schmidt from New Girl, have a thing for breakfast at Manny's or just want to find a damn parking spot, Mark Lawrence and Jeremy Smith are Jews You Should Know!
1. What is your favorite blog or website?
Jeremy: My favorite website is ESPN. I'm constantly traveling and on the go for business and it helps me stay up to date on the latest sports news.
Mark: My favorite website is National Geographic. In my spare time, I love surfing the site to read the latest issue.
2. If time and money were limitless, where would you travel?
Jeremy: Before a personalized excursion to outer space via a Richard Branson spaceship, I would take a good six months in Thailand to fight Muay Thai.
Mark: If time allowed, I would bike and safari in Africa.
3. If a movie were made about your life, who would play you?
Jeremy: Schmidt from FOX's New Girl. He is a young professional who is eager to climb the social ladder and become a lady's man, but his heart is in the right place.
Mark: Charlie Day
4. If you could have a meal with any two people, living or dead, famous or not, who would they be? Where would you eat or what would you serve?
Jeremy: Living: Shaquille O'Neal; Dead: Abe Lincoln. We would be eating really unhealthy, juicy burgers at Kumas Corner.
Mark: Living: Heidi Klum; Dead: Alexander the Great. We would be eating Mediterranean food on the beach.
5. What's your idea of the perfect day?
Jeremy: The perfect day would begin with ideal weather – 80 degrees and sunny, no wind or clouds in the sky. It would be a Saturday, and I would wake up to a healthy omelette, and then go out for a long bike ride. The rest of the day would be running into friends and sharing laughs. In the evening, I would be at a big college football game that would of course end in overtime fashion! After that, I would go out and celebrate in style by hitting the dance floor. I'm an amazing dancer.
Mark: My idea of a perfect day would be spending time with my family and friends. They are very important to me and I'm not able to see them as often as I'd like to. Also, trying something new I haven't done before.
6. What do you love about what you do?
Jeremy: I love my job because I'm getting to face completely new situations and challenges every day. Additionally, I constantly get to interact with highly successful, motivated people whom I continue to learn from. It's more than I could ever ask for!
Mark: Waking up every day with a mission. Solving a problem we all experience or know somebody that does. I work with incredibly amazing people and love the challenge of each day. 
7. What job would you have had if not the one you have now?
Jeremy: Starting NFL Quarterback
Mark: Volcanologist. That's a job right? I'd also like to be a professor to help educate our future generation.
8. What's your favorite Jewish thing to do in Chicago? In other words, how do you Jew?
Jeremy: My favorite Jewish thing to do in Chicago is having breakfast at Manny's. There's nothing better! Also, I like giving back to my community by speaking at local colleges and high schools, helping to educate students on business and technology.
Mark: I like celebrating the Jewish holidays, especially Purim.