Permanent link
All Posts
10/23/2012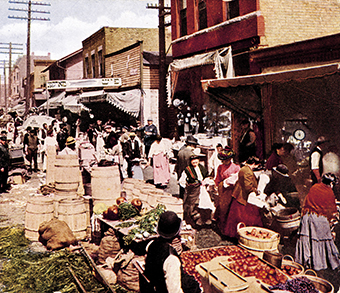 They came to Chicago from diverse nations with hope for freedom, new lives and dreams of success. They were Jews like Abraham Kohn, who left Bavaria at age 23 to sail to America in 1842. Within two years, he and his brothers, Julius and Meier, worked their way to Chicago by buying and selling goods and then established Kohn Brothers, a clothing store on Lake Street. The brothers and other Jewish men founded Chicago's first congregation, the Kehilath Anshe Ma'ariv, commonly known as "K-A-M." in 1847. Abraham eventually found his way into politics and was elected city clerk in 1860.
Abraham Kohn is one in a rich and complex cast of characters who built the Chicago Jewish community and at the same time, built Chicago as well. The Chicago History Museum celebrates their contributions in its new exhibit: Shalom Chicago: The History of Jewish Chicago Told Through Personal Stories. The exhibition opens Sunday, Oct. 21 and runs through Sept. 2, 2013. Spertus: A Center for Jewish Learning & Culture collaborated on the exhibit.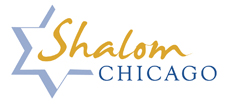 Shalom Chicago is part of a series of exhibitions focusing on the religious communities that have contributed to the city's traditions and its development as a major urban center. "As we continue the tradition of exploring faiths that have been so important in the City's evolution, we understand the challenge of doing justice to such an expansive subject in just one exhibition," said Gary T. Johnson, museum president.
"The exhibition will tell a distinct Jewish story, but it will also tell a broader Chicago history," said curator Olivia "Libby" Mahoney. A member of the Chicago History Museum staff for more than 30 years, Mahoney consulted with the Jewish Federation of Metropolitan Chicago and worked with individuals and organizations from throughout Chicago's Jewish community, among them Spertus: A Center for Jewish Learning and Culture, the Chicago Jewish Historical Society, and the Illinois Holocaust Museum and Education Center to develop the exhibit.
"While the museum had about half of what we're showing, I had to find the other half elsewhere. But that's what makes it interesting and fun-to track down things that you didn't know were there before," Mahoney said. "This was a wonderful opportunity to learn about people from this community."
Visitors will experience the exhibition in three themed sections: The Early Community, At Home in Chicago, and New Challenges and Opportunities. The Early Community features the Jewish settlers like Kohn that came to Chicago during the 1840s from Germany and other Central European countries. Kohn's story is one of many in the exhibition that follows a common theme of Jewish immigrants and migrants coming to Chicago seeking greater freedom and economic opportunity. At Home in Chicago focuses on the differences and similarities within Chicago's collective Jewish community. In this section, biographies of families and individuals illustrate two very different Jewish experiences. 
"German and Eastern-European Jews were really worlds apart when they arrived in Chicago," Mahoney said. "The German Jews immigrated to Chicago with generally more education and better financial resources and had adapted to American society by the time the Eastern European Jews arrived. The Eastern-European immigrants came with less, but they also successfully adapted and became an integral part of Chicago history."
A number of interactive elements enhance visitors' experiences as they explore difference in Jewish faith, working trades, and arts and culture. A re-creation of Maxwell Street represents the vibrant Eastern-European Jewish community that grew on the West Side during the early 20th Century. The Mandel family, founders of the Mandel Brothers Department Store, also featured in this section, represents Chicago's South Side German Jewish community. Many prominent business, civic, religious, and cultural leaders from both communities made significant contributions to the city's growth and development. Their stories, photographs, and other artifacts are woven into the fabric of the exhibition.
"I found all the people that I chose to focus on to be very compelling. Each person has a unique story to tell," Mahoney said. "They tell their own community history, but they tell a larger story about our city."
The final section, New Challenges and Opportunities, focuses on the local Jewish community's response to Adolf Hitler's rise to power. The exhibit opens with 1933 film footage of approximately 50,000 Chicago Jews staging a protest march against Nazism and Nazi participation in the Chicago World's Fair: A Century of Progress. Visitors then move through the turbulent, tragic time of World War II and the Holocaust, and explore how Chicago Jews served their country and community during this time.
The last section of Shalom Chicago includes observations of post war Chicago, when the community changed with a shift to the suburbs and the arrival of thousands of Soviet Jews who, like earlier immigrants, came to Chicago seeking a new life of freedom and opportunity. Among the artifacts provided for this section by the Jewish Federation is a poster promoting the historic 1987 March for Soviet Jewry in Washington, D.C. A video about Jewish Chicago today, as told by members of the contemporary community, closes the exhibit.
Shalom Chicago is made possible with support of DePaul University, Mr. and Mrs. Newton Minow, The Crown Family Foundation, The Jacob & Rosaline Cohn Foundation, Manfred Steinfeld, and Neil Minow, Martha Minow, and Mary Minow in honor of Jo and Newton Minow.
Shalom Chicago runs from Oct. 21 through Sept. 2, 2013, at the Chicago History Museum, 1601 N. Clark St. Hours are Mondays through Saturdays from 9:30 a.m. to 4:30 pm., and Sundays from noon to 5 p.m. For information, call ( 312) 642-4600 or visit chicagohistory.org.