Permanent link
All Posts
03/20/2012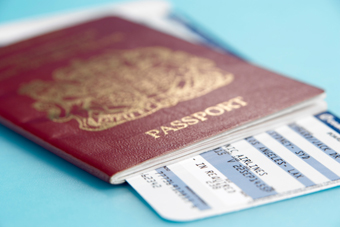 Let's say the world was your (Jewish) oyster…where in the world would you like to travel to—Israel, the Galapagos Islands, Wilmette?
We posed that question to Jewish Chicagoans with the travel bug.
Here's where they're itching to go…
Marc Wasserman 
Neurologist, former Chicagoan who lives in Denver, Colorado. 
Not just saying this because it's JUF News, but Israel. The tremendous history, the culture, the architecture, the religion—one of those places I really should have visited by now but haven't.
Shari Levine 
Teacher, lives in Chicago. 
Where would I love to travel? I'd Backpack through Vietnam, Cambodia, and Laos. There is nothing better than the serene landscape of Asia to clear your mind and bring you back to what's important.
Jane Charney 
Assistant Director, AJC Chicago, lives in Chicago. 
Argentina! I have family there that I've never met and my grandmother was born there.
Tamara Koransky 
Teacher, lives in Oak Park. 
I would love to do the wine country trip in northern California; the last time I was in that area I was pregnant-torture!  I would also love to go to New York with my husband; we've both been there but never together. We love going out to see music and trying new restaurants, so I can just imagine the fun we'd have there together. We always talk about it. Maybe one day...
Rebecca Rosenthal 
Attorney, lives in Chicago. 
I want to go to Iceland and explore the natural beauty, see The Northern Lights, and scuba dive the Silfra Rift, a crack between the American and Eurasian tectonic plates.
Steven Dishler 
Director of International Affairs for the Jewish Community Relations Council, lives in Chicago. 
I have always wanted to visit wildlife national reserves in Africa. The animal habitat is shrinking so this is the time to truly experience the beauty and wonder of the continent.
Paul Wieder 
Public Relations Manager, JUF, lives in Chicago. 
I would like to travel back to Israel with my wife. We had to curtail our honeymoon itinerary because she got sick, so she still has not seen the Dead Sea, Masada, Ein Gedi, most of Tel Aviv, or the best beaches.
Frannie Goldwin 
School Social Worker, lives in Glenview. 
There are so many parts of the world I would like to visit. Although the winter season has been mild, in thinking about where I would like to go if I could hop on a plane today, I would prefer to go somewhere incredibly warm, peaceful, and relaxing. That being said, Antigua and Anguilla both seem like ideal Caribbean island destinations for my hypothetical trip anywhere in the world!
Alan Tuerkheimer 
Attorney/Jury Consultant, lives in Chicago. 
I would like to go to Iceland over the summer. It is full of spectacular mountains and glaciers, is volcanically active, has many great rivers, upper 50's temperature in the summer, very unusual nature all around the island, whales, and an interesting Scandinavian culture.
Shari Young 
Senior Private Equity Consultant, a Chicagoan currently living in London. 
Traveling allows me to have completely new experiences I can't find in my own backyard. Traveling through India, I experienced a Brahman ceremony in Varanasi, Christmas Eve Midnight Mass in Hindu and Latin in Agra, and lit a travel menorah to welcome Chanukah close to the Nepalese border. My next adventure will be in Morocco, where I can get lost in the winding streets as I explore ancient Medina and the old Jewish quarter.
David Epstein 
Information Systems Consultant, lives in Chicago. 
Everywhere. Israel, as it is a home and I have friends to see. Italy, well, because it is Italy :). I want to experience India. Argentina again, Brazil, all of South America. Scandinavia, (the fjords, in June or July of course). Australia. China. Thailand. Vietnam. Africa, (safari in Morocco, Tanzania), Russia, Poland, Lithuania (family history), even the Congo or Sudan, and Iran, Lebanon, Syria (highly unlikely I would actually go, but would like to safely see and experience all of the world, the good and bad). Spain, Portugal, Prague, Budapest. I could list every country and city. North Korea would be fascinating, not a beach vacation, but... Yellowstone, Glacier, Arches, Zion, Joshua Tree, Badlands, Bryce, Cape Hatteras, Crater Lake, Death Valley, there are 58 protected areas known as National Parks in the US alone, and I want to see them all. Sorry, was I supposed to pick just one place?