Permanent link
All Posts
03/06/2012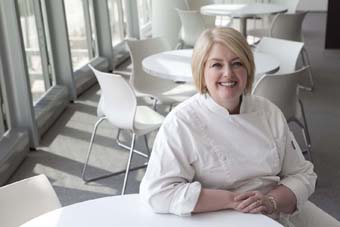 While it is hard not to think of the current political climate when thinking of Iran, Persia was once the center of the spice trade for the ancient world. Animals, textiles, metals, gems and foodstuffs all passed through its ports. Ancient Persia was quite the cosmopolitan empire with influences from India, Egypt, Syria and more.
Jews have a long, tempestuous history in Persia that dates back to biblical times. The books of Isaiah, Daniel, Ezra, Nehemiah, Chronicles and Esther contain references to Persia. Present-day Iran is the home to the largest Jewish community living in a Muslim-majority country.
The foods of Persia are exotic and reflect thousands of years of tradition. Pomegranates, pistachios, rose water and almond pastes are just a few of the flavors of Persia that we cherish today. Persian cuisine is fresh and brightly flavored and seasonal.
Khoreshes are part stir fry and part stew. The simple ingredients are first browned, and then cooked together and delicately spiced with saffron and cinnamon to highlight each ingredient. The end result is a full flavored and delicious meal.
Chicken and Pomegranate Khoresh
2 tablespoons extra virgin olive oil
1 medium Spanish onion, peeled and thinly sliced
1 pound skinless, boneless chicken
2 large carrots, sliced into julienne 
½ pound shelled walnuts, toasted
1 teaspoon salt 
½ cup pomegranate paste diluted in 2 ½ cups water or 4 cups fresh pomegranate juice
2 tablespoons sugar 
½ teaspoon cinnamon 
¼ teaspoon ground saffron threads, dissolved in 1 tablespoon hot water
1. Heat the oil in a large sauté pan over medium heat. Add the onions and sauté until translucent (about 5 minutes). Add the chicken and continue sautéing, stirring occasionally, until golden brown (about 15 minutes). Add the carrot strips and stir-fry 2 minutes longer.
2. Finely grind the toasted walnuts in a food processor and transfer to a small bowl. Add the salt, diluted pomegranate paste, sugar, cinnamon, and saffron water and mix well to create a smooth paste. Transfer the walnut mixture to the pan with the chicken, cover and simmer for 40 minutes over very low heat, stirring occasionally.
3. Taste the sauce and adjust for seasoning and thickness. This khoresh should be sweet and sour, and very thick. Add additional pomegranate paste for sourness or sugar for sweetness. If the sauce is too thick, thin it with warm water.
4. Cover and keep warm until ready to serve. Serve with Jeweled Rice Pilaf.
Jeweled Rice Pilaf
2 cups Basmati rice (I use brown Basmati rice)
4 cups chicken stock or water
2 teaspoons salt
¼ teaspoon saffron threads
½ cup chopped toasted pistachios
½ cup chopped toasted almonds
¼ cup chopped fresh mint
¼ cup chopped fresh parsley
½ cup dried barberries* (if not available, substitute chopped dried cranberries)
Suggested garnishes: dried barberries and fresh mint
1. Place the rice, chicken stock or water, saffron and salt in a medium saucepan with a tight fitting cover. Simmer over medium low until the rice is cooked completely (about 25 minutes).
2. Transfer the rice to a large mixing bowl. Add the remaining ingredients and mix thoroughly.
3. Serve the rice garnished with additional barberries (or chopped cranberries) and chopped mint.
*Dried Barberries are the tart and garnet colored fruit from a barberry tree. They are commonly found in Middle Eastern and Persian grocery stores and on-line.
Pomegranate Sparkler
And since tomorrow is Purim, here is a little something to brighten the holiday. This cocktail can easily be made for children by eliminating the vodka.
Yield 4 cocktails
4 ounces vodka
1 cup fresh squeezed orange juice
2 tablespoons pomegranate paste
1 ½ cups soda water
1. Stir together and serve. Garnish with orange slice.