Permanent link
All Posts
09/23/2008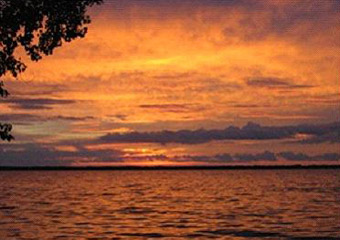 Lake Koshkonong, home of the gefilte fish

Having my face smacked with a decomposing alewife when I was five put my blossoming relationship with fish on the wrong foot. The north shore beach where the family frolicked was littered with the stinky things. And while I eventually learned to steer clear of the bullies who used the rotting fish as weapons, from that moment on, a day at the beach no longer was a day at the beach.

It was years before I had anything to do with fish other than to step gingerly around their silvery corpses.

"If it used to swim, I'm not eating it," was my unspoken mantra.

By the time I reached fifth grade or so, emboldened one Pesach by as many shots as I could sneak of Manischewitz sweet table wine, I finally relented to Bubbe's perennial plea to try her gefilte fish. I slathered the gray, lifeless lump with gobs of horseradish, blocked my brain from thinking about its murky, marine origins, shaved off a tiny sliver with my fork, and swallowed it without gagging. (I think I was holding my nose.)

My recovery from fish trauma had begun.

Fast forward many years, and I'm up for a slab of grilled salmon or a filet of fried tilapia now and then. No head, no tail, preferably no skin, and I'm usually good to go.

Come the Jewish holidays I actually look forward to gefilte fish. Which leads me to a Rosh Hashanah fish tale.

Eighteen months ago, my wife and I found a little piece of paradise by the shores of Lake Koshkonong, a vast, shallow lake in southeastern Wisconsin that nobody else seems to have heard of. It's bigger than Lake Geneva, and less than an hour further up Highway 12, but you can practically hear a pin drop on Koshkonong, even on lazy summer weekends when flotillas of motor boats churn other Wisconsin lakes to a noisy froth.

Lurking in Koshkonong's waters are lots and lots of fish: walleye, white bass, northern pike and carp. More carp than you can shake a fish stick at. More carp than you can imagine. So much carp, according to Jerry, the avuncular owner of Harbor Recreation, in Newville, Wisconsin, that just about every fish product made in North America that doesn't actually look like fish—from fish sticks to fish filets to fast food sandwiches—comes from the clean waters of Koshkonong.

During a recent visit to Jerry regarding an old pontoon boat with a cranky engine, I learned more about the fate of Koshkonong's carp.

Jews are pretty few and far between in an area of the country I like to refer to as "Germany lite," and I don't know if Jerry spotted me as a Member of the Tribe (not his tribe, mine). But he managed to finesse gefilte fish into the conversation with the patience and grace of a seasoned angler.

"You know, Jewish people eat tons of carp from here for their holidays," he ventured. He tantalized me with fish tales of bearded rabbis coming all the way to Koshkonong from Borough Park to inspect and bless the fish before they're packed in ice and shipped off.

At dusk my wife and I like to sit by the water's edge and watch the sky light up as the sun sinks over the water. Near shore the carp like to jump, catching flies for dinner before slapping back down into the water.

I can't say I've yet come to love those fish, especially the occasional one I find decomposing on our beach. But I do look forward this Rosh Hashanah to eating a little piece of Lake Koshkonong, daubed with horseradish and downed with sweet holiday wine.