Permanent link
All Posts
08/19/2008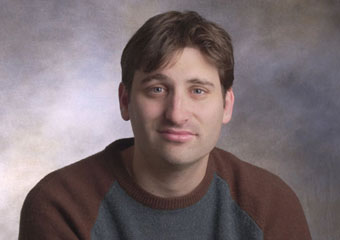 Mark Bazer will have you laughing in his column featured in next week's issue of Oy!

Mark Bazer is a syndicated humor columnist for Tribune Media Services and his column—which covers everything from current events to what to talk about with your hair stylist—appears every other Thursday in RedEye and on ChicagoTribune.com. He is also the host of The Interview Show, a live talk show that runs the first Friday of every month at The Hideout and features guests like Bibla Golic, the "Maria Sharapova of Table Tennis" and Doug Sohn, President of Hot Doug's Encased Meat Emporium, along with artists, musicians and authors. His next show, Friday Sept. 5, will feature Savoy jazz saxophonist Frank Catalano, hip hop poet Kevin Coval and Steve Gadlin, creative director of Blewt! Productions' "Impress These Apes!"

So whether you love reading his column in the RedEye, find Christina Aguilera empowering or just want to have a good laugh, Mark Bazer is a Jew You Should Know.

1. What did you want to be when you grew up?
The American boy cliche: a professional baseball player. But the difference is I wanted to be the bullpen catcher. Many of the perks of being in the Major Leagues but considerably less pressure.

2. What do you love about what you do today?
The deadlines. Really. I like being able to be done with something -- and having to be done with it -- and then go onto the next thing.

3. What are you reading?
"Then We Came to the End" by Joshua Ferris. It's a novel about an advertising agency in Chicago. It's really funny. It's the kind of novel where, during the days you're reading it, you start almost thinking in the mode of the novel, if that makes any sense.

4. What's your favorite place to eat in Chicago?
Sultan's Market in Wicker Park. My wife and I used to live across the street, and it was my first falafel experience. Now, I am inevitably disappointed by any other falafel I have. And I should also probably mention Manny's.

5. If money and logistical reality played no part, what would you invent?
Something that people can use to easily get from one place to another with such ease, comfort and style that it would literally change the world. I'd call it a Segway.

6. Would you rather have the ability to fly or the ability to be invisible?
Fly. I feel like if you were invisible, people would be bumping into you all the time.

7. If I scrolled through your iPod, what guilty pleasure song would I find?
Christina Aguilera. But is that guilty? She's really good. And she empowers me.

8. What's your favorite Jewish thing to do in Chicago-in other words, how do you Jew?
Having the occasional Shabbat dinner with my in-laws, my wife and my 3-year-old son at my in-laws' downtown apartment. I like watching my 3-year-old try to sing along. Maybe he'd actually learn the words if we didn't do it so occasionally.

Look for one of Mark's columns in the Living Jewishly section of next week's issue of Oy!