Permanent link
Meet Barbie Adler, Chicago's own upscale matchmaker
09/28/2010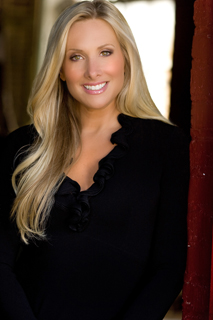 As someone who is constantly (and mostly unsuccessfully) trying to set up her single friends, I was excited to meet Barbie Adler, a real, live matchmaker. As I toured her office, where words like LOVE, AMOR, and KISS ME are literally written on the walls in big wooden letters, it became clear that Barbie is not your traditional yenta.
Known as one of the industry's most respected matchmakers, sought-after lifestyle management coaches and personal relationship experts, Barbie founded Selective Search Inc. in 2000, and it quickly grew to become the nation's leading upscale, boutique personal matchmaking firm with an 88 percent success rate, the highest in the industry.
Continuing on my tour, I saw a wall of what appeared to be an endless collage of wedding and baby photos from her success stories (1,167 marriages resulting in 409 babies and counting to date) confirming that her approach—using the same methodologies of executive recruiters and headhunters to apply to personal matchmaking—truly work.
More than just cute shoes
Chicago born and bred, Barbie grew up in a traditional Jewish home, where her mom, a psychologist, often led communication, parenting and couple classes.
With her background in psychology and PR, Adler first found her professional niche in executive recruiting.
"It was so rewarding helping people find the right home for their work life," she says. "Once I learned that formal methodology of screening and meeting candidates and clients and making a match professionally, I realized this is so needed in the personal space."
So she applied those same principles she learned from executive recruiting and coupled them with her years of dating experience.
"I [took] everything that I knew didn't work for me and everything I wished was there when I was single and created a company that would be a resource for people," she says. "I really just thought I would make a difference in people's lives and buy cute shoes and call it a day. I really didn't have the foresight to make it the scaled company it is today."
Once she found her true home, Barbie knew that she and matchmaking were beshert. "I love what I do and this is truly why I'm put on this planet. Being Jewish, marrying someone Jewish and now helping other singles meet someone Jewish is really important to me."  
'That's how easy love can be'
So how does it all work?
When clients come to Selective Search, Inc., they are ready to settle down.
"They've already put their ego aside and they are asking for help," Barbie says. "They realize meeting this person is more important than how they meet this person."
They come in to Barbie's office, complete with comfy chairs and private hallways so no two clients should ever meet, and sit down with Barbie or one of her matchmakers. Over a couple of hours, she really gets to know the client, inside and out, and then begins the intense and thorough search.
Barbie, who calls herself a "walking rolodex" first does an internal search of her database (women can join for free), followed by phone screenings and in-person interviews.
"When we're that excited about her and she is looking for him just as much as he is looking for her, then we'll tell both people about each other."
And for some, that's all it takes. According to their website, 30 percent of Selective Search Inc. clients couple up in the first introduction and 45 percent need only three introductions before forming exclusive relationships.
"There's nothing better than [when] my phone rings and it's the couple closing down the restaurant and they're leaving me a voicemail," she says. "That will never get old. I've been doing this for 10 years and I'm still the same excited person to hear the feedback after the date."
Advice from the expert
I asked Barbie what advice she had for Jewish singles out there.
"I think the biggest thing is to really put the time—almost the amount of time you put into getting ahead professionally—into coming up with your own strategic game plan for yourself. That involves silencing your life and putting 'you time' on the calendar."
When trying to meet someone, Barbie's advice is to put yourself in new situations.
"Don't just hang out with the same group of people. Mix it up. Make sure that you seem approachable, don't stand in a pack of girls, or have a look on your face [that makes you seem unapproachable]." 
When you do go out on that date, make sure you're the best version of yourself. Both emotionally and physically, she said. And watch your alcohol.
Once in a relationship, the first step is to make sure you are dating the kind of people you want to marry, that you can see yourself spending your life with. For people in their 20s, she said one of the big mistakes people make is not thinking long-term. 
"If you know in your heart that you're with someone that you can never see yourself marrying, for whatever reason, don't stay in the relationship just because it's hard to break up and you don't want to hurt the person's feelings or you feel sorry for yourself that you have to go back out there," she says. "The older you get it's going to be harder to meet people. So, while you still have time on your side, even though it will hurt like heck, break up."
For singles in their 30s, she said, the biggest challenge is to make sure you are carving out time to date. It can get challenging to find time for yourself, as your career starts to grow and you find yourself celebrating everyone else's milestones.
Once you determine the type of person you are looking for, make sure that you are that type of person in return.
"If you're looking for a guy who takes care of himself and is in great shape and athletic and you're not doing the same for yourself, [you should] make sure that you are the person that your partner is going to want," Barbie says. "I know that sounds cruel, but that's life, right?" 
Yenta 101
Being the wannabe matchmaker that I am, I asked Barbie what advice she had for us amateur yentas out there.
Good matchmakers need to understand that it's an emotional process, she says. They need to be good listeners and have love for both genders. People who get jealous when they see someone taller, thinner or more successful than them, have no business in this business.
"It's not just like a product," she says. "Because it's such an important value in someone's life, we take it so seriously."
If you're trying to set someone up, try asking the person what they're really looking for. Ask them what's worked for them in the past—what qualities made them fall in love and ultimately the things that didn't work out.
And, she says, help your friends get out of their own way.
"'What do you mean he has to have green eyes? Are you kidding? I'll buy you a green plant.' [Help them] get out of their own way with some of the stereotypes."
Barbie, a former "heightist," before she met her husband, is a living example by only dating people of a certain height, age or hair color, you're only limiting yourself.
For two single friends, she suggests making a fun game out of it.
"Say you're going find the next date for your friend and she's going to find one for you and by Friday you have to make that happen," she says. "It's easier to pick someone else up if it's not for you."
Somewhere out there
"If you're not making yourself or your love life your priority, only you can do that. You really need to be the change agent to make that happen," Barbie says. "I always share the philosophy of you should be excited that you haven't met this person yet because it just means that while you're preparing to be the best version of yourself, just know that somewhere out there he's doing the same for you."