Permanent link
Chicago premiere of film adaptation tells the story of inventing the perfect Jewish boyfriend 
09/29/2009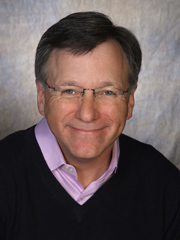 Chicago Jewish playwright/filmmaker James Sherman
Years ago, in acting class, James Sherman met a fellow student actor who worked for an escort agency, where he pretended to be someone's Jewish boyfriend for an evening with her parents.
A Chicago Jewish playwright and now a screenwriter and director, Sherman never forgot about that silly ruse the actor had told him about. Years later, Sherman wrote a play called "Beau Jest," a romantic comedy stemming from the escort service plotline coupled with some of his own issues with his parents. "I don't know if I was actually in therapy or just reading books about how to make peace with my parents," he said, "but this play, like my others, deals with whatever is going on in my life at the time."
Sherman, who grew up in Skokie and Lincolnwood and now lives in Chicago, recently adapted "Beau Jest " into a feature film that will run at the Wilmette Theatre from Thursday, Oct. 1 through Thursday, Oct. 8.
The play and the movie tell the story of a young Chicago Jewish school teacher (played by Robyn Cohen) who is dating a nice guy with one flaw—he isn't Jewish. Sarah tells her parents she is no longer seeing her boyfriend, appropriately named Chris Cringle, but secretly continues to date him. To keep her mom (played by Lainie Kazan) from setting her up with anymore "nice Jewish boys," Sarah invents the perfect Jewish boyfriend. After a while, her parents insist on meeting him. So she hires a non-Jewish actor named Bob, from an escort service, to play the role of her Jewish doctor boyfriend at a dinner with her family.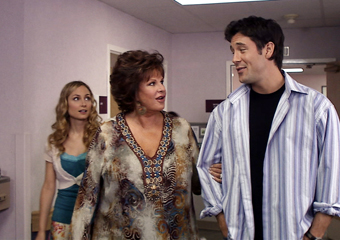 Sarah Goldman (played by Robyn Cohen), Mrs. Goldman (played by Laine Kazan) and Bob, playing the role of the perfect Jewish boyfriend
Both the play and the movie have that "My Big Fat Greek Wedding" effect, according to Sherman, where people of all ethnicities can relate to the premise of trying to impress one's family with the perfect significant other. "I hear a lot of people say, 'This is just like my family,' but they happen to be Korean or Italian or African American," he said.
Twenty years ago, the play "Beau Jest" debuted at the Victory Gardens Theater in Chicago, where it ran for nearly a year. In a "romantic comedy" of their own, as he puts it, Sherman met his wife, cast as the original Sarah Goldman in the first production of the play. They later had two sons, now ages 18 and 14. The play was produced off-Broadway, running for three years, as well as at regional theaters and in high school and college productions around the country.
Sherman always dreamed of adapting his play into a movie, but had trouble finding producers. For years, he met with Hollywood producers, some of whom were Jewish, who argued that the script was "too Jewish." Ultimately, he found a Mormon producer in Salt Lake City, Utah, who was a big fan of the play, to produce the movie. Shot in 2006 in Provo, Utah, and in Chicago, the movie hit the Jewish film festival circuit around the country and now comes to town for its Chicago premiere.
"When we designed the original poster, we put a slug line that said it's a 'comedy for the whole family,' and we crossed out 'for' and replaced it with 'about,' said Sherman. "It has an appeal for young people going through issues with their parents and for parents trying to figure out why their kids are so stressed out all the time."