Permanent link
A Mitzvah for the Taste Buds
08/26/2008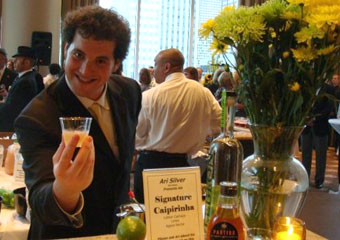 Ari Moffic-Silver, the "Mitzvah Mixologist"

It's a rare thing to be able to use your job skills to help people—especially when you're a professional drink-slinger. So when I heard about an opportunity to participate in Taste of the Nation, the nation's premier culinary benefit dedicated to ending childhood hunger in America, I could not resist. I was eager not only to showcase my mixology skills and rub shoulders with some of the top mixologists in the city, but also to be part of a great cause.

The three-hour event took place August 11 on the 16th floor of the brand new Trump Tower, overlooking beautiful downtown Chicago. Silent, live auctions took place throughout the evening and proceeds went to causes fighting childhood hunger. One of the charities benefiting from the event was the Chicago Food Depository, an organization my family has donated time and money to in the past, so I felt even more connected to this worthy event.

Dubbing myself the "Mizvah Mixologist," I set out early that morning to the supermarket to decide how to spice up an already fabulous cocktail: the Caipirinha, Brazil's national drink, made from a special Brazillian rum called Cachaca (pronounced ka-sha-sa), lime juice and sugar. It was as if lightning struck me right there in the produce section! I found these ripe, gorgeous Chilean clementines—they are seasonal and have a wonderful color and sweetness that I knew would fit perfectly into my cocktail and turn some heads at the same time!

When making a fabulous cocktail, it is sometimes best to keep it simple. In this case, the recipe seems straightforward, but the drink is about execution and presentation. Traditionally, each drink must be made fresh to order—no batching allowed! Batching is when you premix your ingredients and only need to shake and strain before serving.

For presentation and decorative purposes, I quartered the limes and my special twist – Chilean clementines – so they looked like mini pizza wedges and fit nicely into the small plastic cups we were given to serve our cocktails. Because of the quantity or drinks I'd be making, I chose to shake the drinks in my Boston shaker to speed up the mixing process. In an effort to save time, I also gently stirred the agave nectar and lime juice together to create a homemade lime syrup. That is, until I ran out of agave nectar.

As the night went on, after serving dozens of cocktails, I noticed that I was running dangerously low on my agave nectar, which would close up my station for the rest of the night. Oy Vey! But no worries, like every good mixologist I came prepared with a backup: unrefined demarara sugar, native to Brazil and a fine agave nectar substitute. The only caveat with this change in texture is – you guessed it – muddling! While it became a bit more laborious, it actually allowed me to channel my nervous energy into muddling. It was also an attention-grabber and brought many more people to my station just to watch. It also made it easy to share a few words with each person and get to schmooze them a bit while I worked my magic.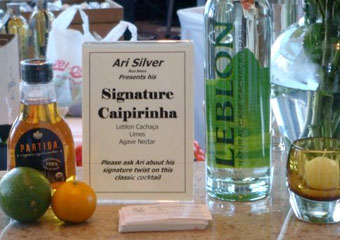 Ari's twist on a traditional cocktail

While I was having a great time mixing cocktails for the masses, I also met lots of great people along the way. For instance, Adam Seger, head bar chef at Nacional 27 at 325 W. Huron, is one of the great mixologists in Chicago. His culinary background serves as an inspirational reference for his crazy cocktails as he breaks barriers and stereotypes that have plagued cocktails for a long time. Here at this event, he was stirring up trouble with his silky smooth Vesper (Gin, Vodka, Lillet Blanc, lemon peel), and even donned a black 1980's Michael Jackson-type hat to boot!

Mixing right beside him was Lynn House, easily one of the most experienced and talented mixologists around. She runs a superbly chic bar at the Graham Elliot restaurant at 217 W. Huron. My esteemed mentor and friend Charles Joly, who runs the mixology program at the ever-popular Drawing Room at 937 N. Rush, had his Tequila Sunrise tasting like summertime. And of course, the winner of this past season's Top Chef: Chicago's own Stephanie Izard, was serving up some tasty dishes at her station alongside season three runner-up Dale Levitski! How cool is that?

Walking out of Trump Tower later that evening with my fellow mixologists, the cool summer night air gently swirling around us, I began to feel a wonderful sense of accomplishment and gratification. I was having an "I just did a mitzvah and boy, it sure feels good," moment and I was proud to have been a part of such a great event.

Make our own traditional; Caipirinha:
1.5 oz Leblon Cachaca
¼ cup 100% Organic agave nectar
4-5 lime wedges
Ice, small cubes or crushed

Directions: Muddle lime wedges and juice with agave nectar in old-fashioned rocks glass for about 15 seconds, making sure not to damage the rinds of the fruit as they contain bitter flavor. Fill the rocks glass with crushed ice, pour the cachaca over the ice, then gently stir the contents with a bar spoon until syrup is mixed in completely.

The modern method asks one to muddle ingredients in the mixing glass, filling it with ice and pouring in the cachaca, shaking for 10 seconds, then dumping the contents directly into the old-fashioned glass.

Traditionalists and modernists alike garnish with a mini wedge or wheel of lime.

L'Chaim!