Permanent link
08/05/2014
Let Them Go/Let Us Go Passover "Frozen" Parody (Let It Go)
Matt Rissien's dedication to the Jewish community, especially to younger generations, has only grown since being named one of Chicago's Jewish 36 Under 36 in 2013. He has continued to find new ways to engage Jewish youth as director of youth activities at Congregation Beth Shalom in Northbrook, including revamping the congregation's youth lounge.
Rissien's approach to working with young adults was especially impacted by a recent experience that hit close to home. A Kansas native, Rissien was visiting home around the time when a gunman shot and killed three people at a Jewish Community Center and a senior living facility in Kansas City. He made it a point to take part in the community's response.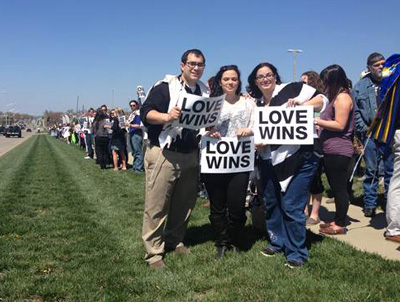 "Westboro-Baptist church was protesting the funerals, so we countered their protest by forming a wall of people with messages of love. The group as a whole went for about 6 blocks, it was an amazing experience."
After this experience, Rissien saw working with teens in a whole new light.
"No matter how young you are, you can always make a difference," he said.
That wasn't the only time Rissien took part in a community response to crisis in the last year. He also volunteered with JUF's Tikkun Olam Volunteer network (TOV) to help those Washington, Illinois whose lives were torn apart by a tornado last November.
"Ever since 36 Under 36, I've wanted to get more involved with JUF," Rissien said.
Rissien wrote about his experience in Washington and the home he helped rebuild in a blog post for Oy!Chicago.
In addition to volunteering, Rissien has gotten involved in Chicago's Jewish community through the AEPi Alumni Association. He helped plan the Centennial Dinner and also plays on the softball team on a weekly basis.
But Rissien will tell you that his biggest accomplishment since becoming a 2013 Double Chai honoree was getting engaged to girlfriend Brittany Silberman. His proposal was truly an achievement in itself.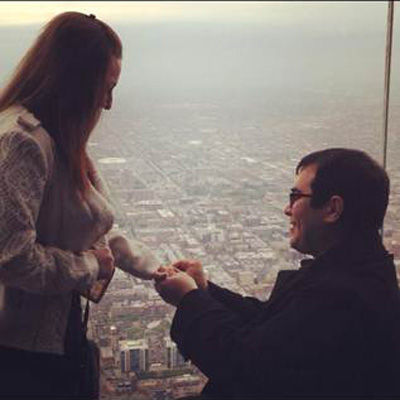 Rissien's creative proposal should come as no surprise to those who have seen his music videos. His original Hanukkah Rap has received nearly 40,000 views on YouTube, while his Passover "Frozen" Parody received 2,000 more than that. And there will be more to come, Rissien says.
Last but not least, since last fall, Rissien has continued developing his passion for Judaism by working on his Masters of Arts in Jewish Professional Studies at the Spertus Institute.
"I have learned a lot not only from other Jewish professionals, but also from working one-on-one with a mentor," he said. "It has given me a lot of knowledge to use in my everyday Jewish professional job."
Meet many past and present Double Chai in the Chi honorees at this Thursday's WYLD in Paris party. Register fast before the event sells out!